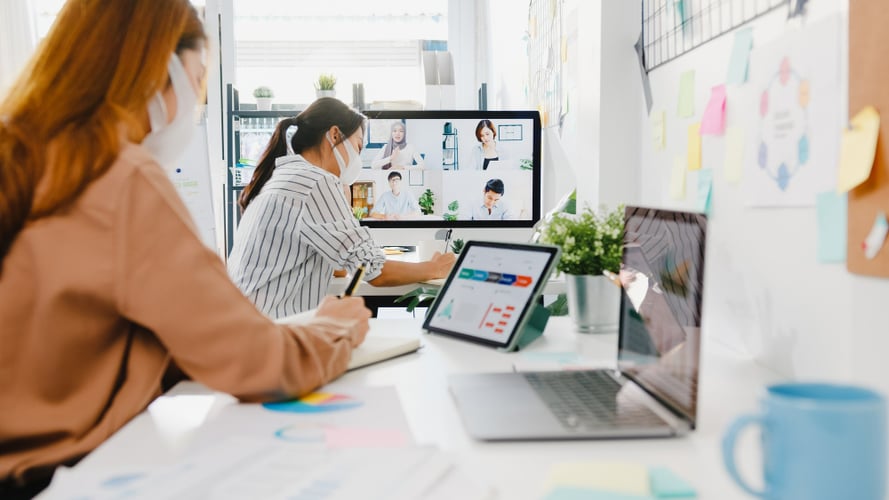 The present COVID-19 pandemic has changed the state of every industry, like tourism and filmmaking, probably permanently. Due to these drastic and possibly long-term changes, every company must be able to keep track of both their teams and clients and adapt to their changing needs. This can be done with the aid of properly handled market research, which is important as organizations adjust to new trends, avoid pitfalls, and capitalize on opportunities.
Here are some of the reasons why market research is more important than ever during the pandemic.
Evolving consumer behavior
As we have discussed in our previous articles, rapid and extreme changes in social routines during the pandemic have severely impacted consumer behavior, especially when it comes to purchasing and decision-making. Market research will be able to help in defining and measuring the aspects of consumer behavior to gauge expectations, needs, and fears that were developed during the pandemic.
One perfect example is the sudden influx of online consumers in Southeast Asia, which now leads the digital growth in the Asia Pacific. According to a study by Facebook and Bain & Co., the region, led by Indonesia, added 70 million new online shoppers since the start of the pandemic. The study mentioned that the pandemic and the resulting lockdowns led to the rapid pace of digital adoption, and it is expected that 80% of all consumers in Southeast Asians will be digital within 2021.

The study also mentioned how the pandemic has changed the purchase journey of customers, as online channels are four times more effective than offline channels when it comes to brand discovery and evaluation. Additionally, it was found that social media served as the number one channel for brand discovery and the number one influencing factor for brand consideration. In one of our recent Eye On Asia articles, we explained that social media not only has shortened the customer journey but also improved product awareness and instilled social proof among consumers, therefore further expanding brand engagement and availability.
Managing customer expectations
In a study conducted by Hiver, it was found that 80% of consumers in the US expect better customer service during the pandemic, even as customer service teams find themselves in logistical issues due to the lockdowns and other restrictive measures. Respondents wanted customer service to be both more responsive and empathetic, and with increasing expectations, customer support becomes more challenging. In the minds of customers, excellent customer service means "timely resolutions", as half of the total respondents consider time as one of the most critical factors to rate customer support as "good".
In Southeast Asia, customer expectations are also on the rise during the pandemic. In a study by Blackbox Research and Toluna, roughly 39% of Southeast Asian consumers are less than satisfied with the digital commerce experience, with concerns on delivery costs and services, product reliability, and authenticity of in-app reviews. As e-commerce websites like Shopee and Lazada become more popular in the region, more customers are also starting to scrutinize their online shopping experience.
Customers are looking more towards companies that understand their needs and sentiments, especially when most people are under lockdown or restricted public movement. Market research will help organizations understand these expectations and what is required to manage them and step up in times of need.
Getting the right message across
Due to lockdowns and other restrictions, Asians spend more time checking their social media. With people consuming more online content than ever, companies must take advantage of this added marketing space to put out messages that resonate with customers.
In 2020, Japan's most popular messaging app, Line, developed a pandemic-mindful strategy to boost domestic tourism. The country has run the world's most assertive promotions for domestic tourism with its "Go To" travel campaign, with the government subsidizing domestic travel vouchers with discounts for up to half-off. However, hotels and travel destinations aim to market outside areas with high cases of COVID-19 infections, like Tokyo. Line's geo-targeting capability allows it to target users with relevant travel ads through its sub-brand, Line Travel jp.
In Southeast Asia, one of the rising trends in e-commerce is environmental, social, and corporate governance, or ESG. It is said that ESG is starting to become a major factor for brand switching among Southeast Asian consumers, of which 95% are willing to pay more for good causes. So far, it appears that the main barrier of this trend is the lack of understanding of how ESG benefits brands and products, but with proper market research, ESG can be one of the major game-changers in the region.
Preparing for post-pandemic opportunities
Currently, more than half of the world's population lives in the Asia Pacific region, and by 2050, Asia is projected to have the largest urban populations on the planet, with implications on essential services, housing, and sustainability. Asia is primed to become the central hub of technological innovations, especially now that it has the world's largest population of tech-savvy "digital natives". The current operation and trading restrictions in the traditional manufacturing sector, which previously spearheaded pre-pandemic waves of growth in the region, led leaders and employees to look for other opportunities. For example, Hong Kong IPOs raised the largest amount since 2010, with the majority of funds being raised by emerging companies like biotech enterprises.
Another post-pandemic opportunity in Asia is the development of home-centric citizens. In the aforementioned study in Southeast Asia by Facebook and Bain & Co., it is believed that the home-centric lifestyle that was borne out of the lockdowns will remain even after the pandemic is over, as 72% of Southeast Asians will continue spending their time on in-home activities that they've grown accustomed to even after the restrictions are eased. Moreover, nine in ten executives in the region believe that the hybrid or work-from-home model will become the norm.
It was also mentioned that current investments are fueling digital disruptions, as 80% of funds are now flowing into the tech sector, particularly in fintech, edtech, e-commerce enablers, and ecosystem platforms. It is said that two out of every five Southeast Asians will spend even more on digital services after the pandemic. For example, in another Eye On Asia article, we discussed how Filipinos have started to embrace a cashless future, with more and more people using digital payment services like PayMaya and GCash for their everyday transactions, from food delivery to public transportation.
With changes come opportunities. With market research, companies will be able to position themselves properly, as they understand the products and services that their target audience requires.
If you plan to develop a study using online research panels, check out our primer here.