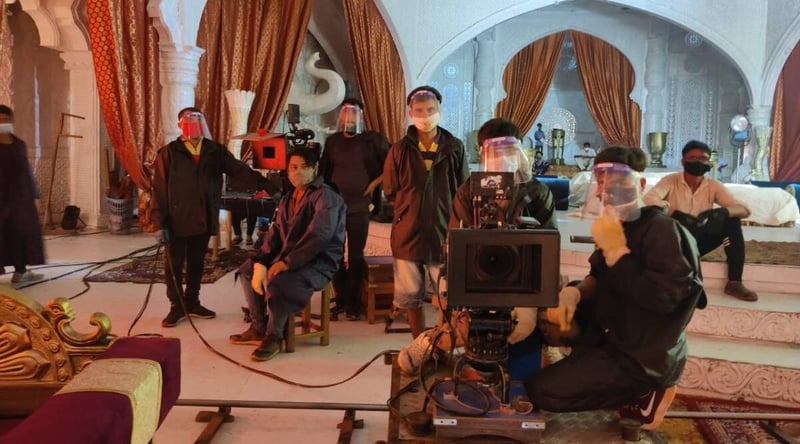 The COVID-19 pandemic continues to wreak havoc on the medical infrastructure of India, the second-most populous nation on earth, affecting different sectors of society and industries.
India's film industry, considered to be the world's largest in terms of the number of films produced and second largest in terms of global reach, was not spared by the devastation brought about by the current pandemic, as it continues to experience a decline in profits, loss of projects and jobs, and irreplaceable loss of life since March 2020.
Before this, roughly 1,600 to 1,800 are produced every year in various languages, with around 200 to 250 of them released in the Hindi language, popularly known worldwide as Bollywood films. Bollywood gets a little over 30 billion INR (402 million USD) in box office earnings. Also, the industry sells around one billion tickets every year. For Bollywood, much of a major studio film's success is owed to in-theater audiences, which generate the bulk of its revenue.
In terms of financial impact, analysts estimate that this year's total revenue will be lower than its already dismal record last year. According to an annual report by the consultation company Ernst & Young, total revenue from India's media and entertainment industry – which covers film, digital, TV, music, print, animation, and gaming, among others – fell by 24 percent in 2020 to 1.38 trillion INR (18.7 billion USD), compared to 1.82 trillion INR (24.7 billion USD) in 2019, in effect setting back revenue levels by three years. But it's the film industry that took the worst hit, with revenues crashing by more than half to 76 billion INR (1 billion USD) in 2020, compared to 191 billion INR (2.6 billion USD) in 2019.
Theater shutdowns, loss of jobs
According to an Ernst & Young report released last year, India has around 6,327 single-screen theaters and 3,200 multiplexes. When the pandemic struck, moviegoers avoided going to the theaters in fear of getting infected, and around 1,000 of these theaters shut down permanently. The theater industry saw a ray of hope from October 2020 to April 2021, when restrictions were lifted, but with the coming of the succeeding COVID-19 wave and new lockdowns, more theater owners are considering permanent closures, which means the overall screen count in India may come down to 7,000, according to industry insiders.
With theaters still near empty due to the lockdowns across the country, several producers opted to withhold their release in theaters and targeted streaming platforms. As a result, it is estimated that the industry lost theatrical revenues of close to 120 billion INR (1.6 billion USD) since last year. There have also been additional issues on revenues in terms of concession and screen advertising sales. With 70% of the box office earnings coming from multiplexes, Hindi films are facing issues when it comes to earning or even breaking even from production costs.
The loss of earnings from the box office, and the grim prospect of future lockdowns, spills over to the production team. According to the Federation of Western India Cine Employees, more than 250,000 film industry workers, from entertainers and makeup artists to set designers and carpenters, were also affected by the pandemic. Every major Indian film production was put on hold following the implementation of lockdowns in the Western state of Maharashtra, home to the country's entertainment capital, Mumbai. Some shoots, like television shows utilizing indoor sets, moved to other locations like Goa, the severity of the succeeding pandemic waves brought production to a standstill to other regions. Major cities are imposing further curfews and lockdowns, including the national capital Delhi, which is currently the pandemic's worst-hit major population center.
The film sets employ anywhere between 300 and 500 people, depending on the film scale and budget, and include people like the film crew, the main cast, the junior artists, and stunt performers. With major film releases put on hold and ambitious projects put on the backburner, daily wage workers employed in various capacities in production teams have been hit hard. Meanwhile, animation projects have been ongoing since the lockdowns as employees were provided with equipment to complete their work at home.
Worst of all, it's the lives of personnel that are put at stake each day. In recent months, a host of Indian celebrities tested positive for COVID-19, including Aamir Khan, Alia Bhatt, and Deepika Padukone, who underwent treatment. Unfortunately, there were also fatalities among the older names in Bollywood, including actor Bikramjeet Kanwarpal and veteran composer Shravan Rathod.
Adapting to new platforms
As Indian moviegoers continue to remain at home, most have found refuge in streaming media service platforms, like Netflix and Amazon Prime, which are considered the "new big screen". There are currently over 45 over-the-top (OTT) platforms across the country, and current trends indicate that with access to better networks, digital connectivity, and more importantly, smartphones, OTT platforms in India will cater to an increasing number of subscribers daily. With cinemas shut for six months in 2020 starting with a two-month-long national lockdown, films intended for theatrical release went straight to OTT platforms as producers scrambled to generate revenue.
Digital saw a boom with video subscriptions jumping up to 42.2 billion INR (10 billion USD) in 2020, from 28.2 billion INR (384 million USD) in 2019, with a prediction of reaching 56 billion INR (763 million USD) by the end of 2021. With low cost, efficient mobile packages, and good internet connection, rural and urban populations were able to enjoy OTT services at a very rapid rate.
This year's halt in production can still affect the releases on OTT platforms if last year's figures are any indication. According to the Ernst & Young report for 2020, OTT companies spent over 10.2 billion INR (138 million USD) to create around 1,200 hours of original content across 220 titles, which was a 27 percent drop from 14 billion INR (190 million USD) across 385 titles in 2019. This overall drop in content in 2020 was linked to the five-month stoppage in productions.
The industry's response
Getting Bollywood back in shape is still a challenge, as getting back to work requires more than just a negative report. The industry is looking toward a widespread vaccination drive as an essential step to resume production. The vaccine scramble has already begun, as several actors, including Madhuri Dixit Nene, Anil Kapoor, and Riteish Deshmukh, got their vaccine shot.
As vaccination drive picks up for people aged 18 and above pandemic, some industry leaders have started to put out appeals to the government, urging them to have its members and workers vaccinated. The Indian Motion Picture Producers' Association (IMPPA) has written to Chief Minister Uddhav Thackeray to set up a vaccination center for its members, while the Federation of Western India Cine Employees (FWICE) also has requested the state government to provide vaccines for its artists, workers, and technicians.
Last year, the Producers Guild in India launched a relief fund for workers, which also saw Netflix contributing 73.6 million INR (1 million USD). The Guild is again reaching out to all of its members to raise funds, and it is estimated that over last year and this year, the relief fund has raised a total of 147 million INR (2 million USD).
Leading production banner Yash Raj Films pledged that it would pay for the vaccination of the 30,000 members of the Federation of Western India Cine Employees. Additionally, the company's Yash Chopra Foundation initiated a direct benefit transfer of 5,000 INR (68 USD) to women and senior citizens of the industry, as well as provide ration kits to workers for a family of four for an entire month through the non-profit organization Youth Feed India.
Bollywood actors stepping forward
In response to the difficulties the country is facing, Bollywood actors take the initiative to lend a helping hand.
Actor Sonu Sood has been working on the frontlines since the first wave of COVID-19 struck India. Last year, he helped thousands of stranded migrant workers go back to their homes after the government imposed a hard lockdown all over the country with just a few hours' notice. This year, he launched a free help service with two private medical organizations and continues to engage with his followers on Twitter who are directly seeking help.
Indian superstar Salman Khan, who founded the charitable organization Being Human in 2007, has also started the Being Haangryy initiative, which sends food trucks to health workers and police personnel during the pandemic. He also visits the locations where the food trucks are deployed to check the food quality and safety protocols.
Priyanka Chopra Jonas, who is now residing and working in Los Angeles, continues to help her home country by initiating the fundraiser program #TogetherForIndia with her husband Nick Jonas. She announced the fundraiser on Twitter and Instagram: "India, my home, is suffering the world's worst COVID crisis," she said, "and we all need to help! People are dying in record numbers. There is illness everywhere, and it's only continuing to spread and kill at a great scale."
Like most countries, India's battle against COVID-19 is far from over, but the Bollywood industry will continue to exist, as the industry is part of the country's colorful culture, and its movies continue to entertain every Bollywood fan facing the daily difficulties brought by the pandemic.
Check out what other delectable treats Southeast Asia has to offer with our other Eye on Asia entries. We have stories on Malaysia's mamak stalls and Singapore's hawker culture. See you in the next one!