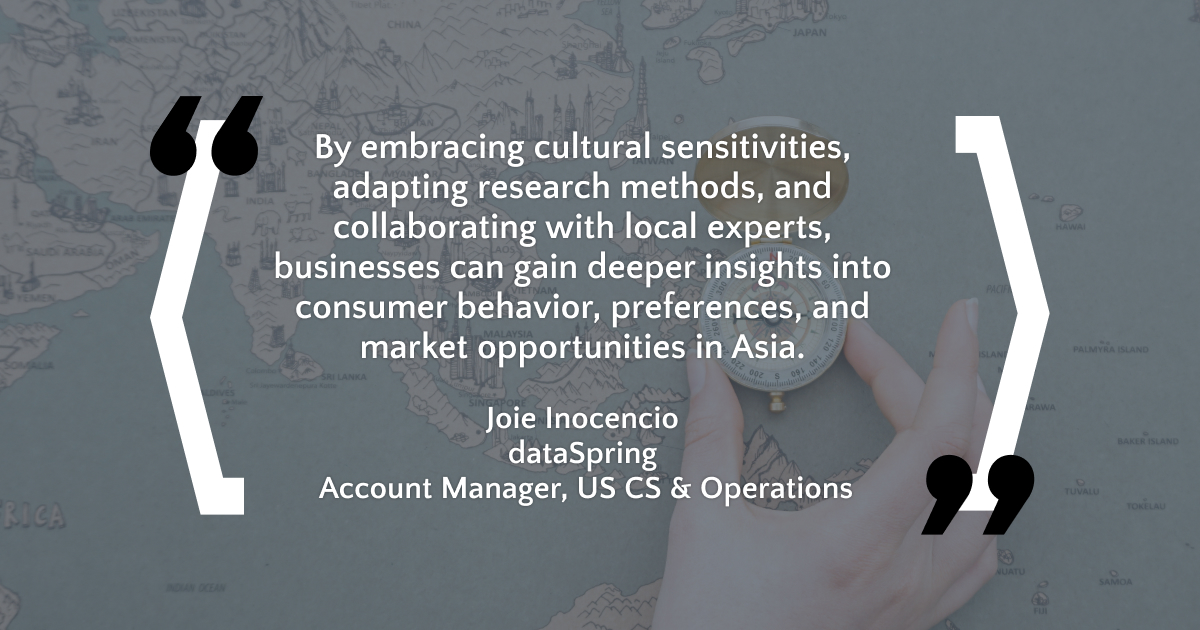 As Asia emerges as the world's largest and fastest-growing consumer market, understanding consumer behavior requires more than just statistics. Delving into market research in the region requires cultural sensitivities, adaptability, and deep appreciation for each distinct market.

Joie Inocencio, dataSpring's Account Manager, US CS & Operations, shed light on the significance of the diverse culture of the region with The Logit Group, Inc.'s third collection of practical and actionable insights on the most top-of-mind issues facing the Market Research industry.
"By embracing cultural sensitivities, adapting research methods, and collaborating with local experts, businesses can gain deeper insights"
Do you know how many countries or territories there are in Asia?
The answer actually depends on who you ask.
Asia, being the largest and most populous continent, has a vastly diverse culture with different histories that offer valuable insights in terms of consumer behavior.
With almost 4.6 billion in population, it has become the world's largest and fastest-growing consumer market, creating business opportunities domestically and globally.
While this is a rich landscape for market research, it is important to approach the process with cultural sensitivities, nuances, adaptability, and a deep understanding of the continent's diverse market.
To start off, a study should be conducted with an expert in the area to guide the researcher in localization and cultural appropriateness.
At the very beginning of this article, the question relates to the most common question asked in many ways in an MR study, which is: "Which country do you currently reside in?"
It may sound very basic and trivial, but this question may be offensive and sometimes critical to a respondent with strong emotions about issues relating to territories.
As with any other culture, there are many more topics that in general may be too intrusive in Asian culture, but here are some that should be considered with utmost caution.
• Religion/Beliefs: Questions about beliefs may get too personal and invasive
• Personal Finances: Money matters are often considered private and personal in many Asian cultures
• Age/Marital Status: Some may take questions about these topics as prying into other people's lives
• Political Affiliation: There are areas where political discussions are restricted and controversial
• Family and Relationships: Questions about family dynamics, fertility, or personal relationships can be considered invasive, especially in more conservative societies
Some respondents' reactions to questions vary from reaching out directly to the researchers, to the panel providers, or even to the government.
A company may lose access to the market while a panel provider may receive backlash from their own panelists and won't participate anymore.
Government sanctions also depend on the specifics, but the worst case that can happen is a closure of businesses or being banned from conducting research ever again.
Despite the nuances or sanctions—yes, they're scary—it makes Asia more interesting, as these differences provide a lot of different insights and perspectives as well.
Nobody wants a sanction and here's how we can avoid it.
Aside from these seemingly similar topics—but with different takes depending on the area of research—it is best to understand localizing the research through the following methods, as there is no one way that fits all:
• Modify and align the research instruments considering cultural context and aligning with local language.
• Mindful usage of visuals with consideration to cultural symbolism and elements
• Familiarizing with local ethical standards, data protection and privacy policy laws, participant consent requirements
• Most importantly, engage with experts or researchers with experience and insight in the local market
In my 8-year professional experience working with researchers and companies that want to penetrate the Asian market or at least get a grasp of consumer behavior, dataSpring remained passionate in conducting research while maintaining respect for the culture nuances of panelists across 12 Asian markets.
You'll see a project manager being firm on removal or revision of a question or even on a sampling strategy that will fit.
I have seen projects that were successfully delivered through multiple local consultations—be it about a revision of a question to totally revamping a methodology—but there are also those which were declined due to inadaptability to local setting.
By embracing cultural sensitivities, adapting research methods, and collaborating with local experts, businesses can gain deeper insights into consumer behavior, preferences, and market opportunities in Asia.
This approach will lead to more informed decision-making and successful market strategies in the diverse and dynamic Asian market.
Download your copy of volume 3 of the Industry Insiders' Guide here to learn more what other leading minds in the Market Research industry has to say on the current issues and trends here at the Logit Group's download page.