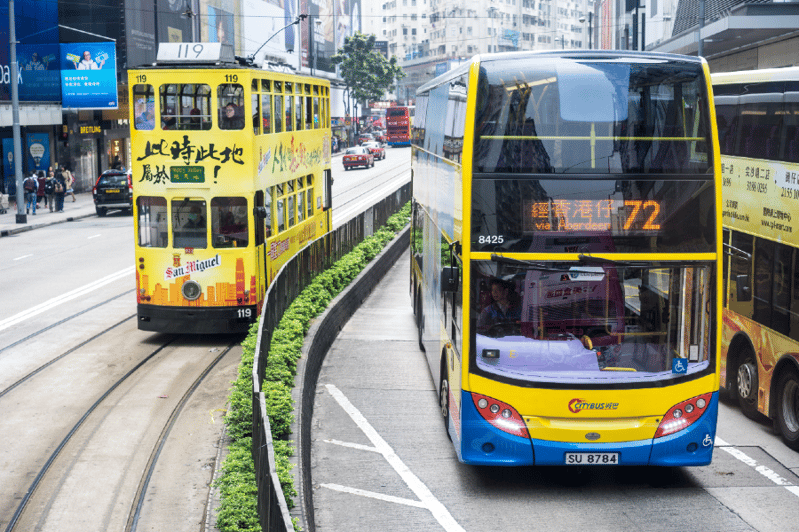 There is a variety of ways to go around and about in Asia - from the usual buses and trains to unique vehicles like Thailand's Tuk-Tuk. The preferred mode of transport can be attributed to a variety of reasons, from the state of the economy, to historical developments, and to progressive or mishandled government policies. These same factors contribute to the development of public transportation, which in turn affects the quality and speed of travel. In this study, we wanted to know the preferred method of transportation and the travel time needed by our panelists.
The Results Are In!
In this survey, the panelists were asked two questions. The first question asked them to rank their preferred modes of transportation, while the second question asked them about their usual travel time. Check out how our panelists move around and how long it takes for them to commute!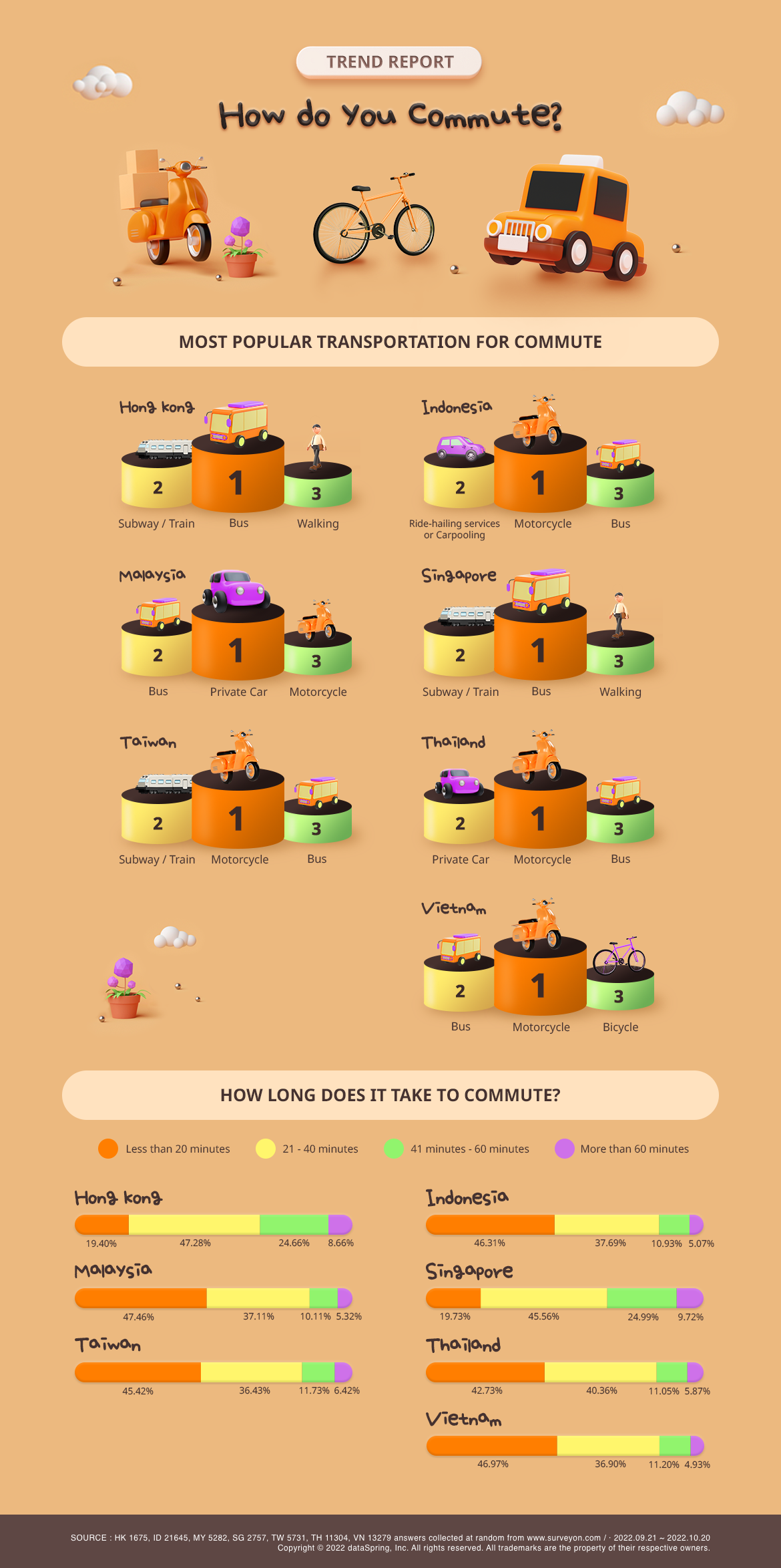 When asked about the most popular mode of transportation, our panelists from Indonesia, Taiwan, Thailand, and Vietnam ranked the motorcycle as their number one choice. This is not unusual since these countries have the highest per-person motorcycle usage (87% in Thailand, 86% in Vietnam, and 85% in Indonesia). Motorcycles are staples on Asian roads due to their lower prices and greater fuel economy. Around 58% of motorcycles used in the world are in the Asia Pacific and Southern and Eastern Asia regions.
Meanwhile, riding the bus is the number one choice among Hong Kong and Singapore residents. Both rank the subway and train as the second choice and walking as the third best option. Aside from being the smallest in terms of area, both Hong Kong and Singapore rank high in global ratings for the best public transit systems. While offering widely accessible, affordable, and relatively more convenient and faster modes of transportation, Hong Kong and Singapore make individual modes of transportation less attractive by having large green zones or large car-free zones, and making car ownership more expensive. Finally, both Hong Kong and Singapore are leading in implementing new technologies in transportation, like autonomous buses.
Finally, only Malaysia places private cars as the top mode of transportation. This preference is driven by past policies - it started with Malaysia's road expansion policies in the 1960s, as well as the country's first national car project called Proton in the early 1980s. When Malaysia initiated its car manufacturing industry, the government imposed high duties on imported cars, which made Proton the only affordable option for Malaysians. Poor commuter infrastructure, like poorly-lit bus stops and lack of pedestrian walkways, exacerbated by tendencies to widen roads lead to more car dependence among Malaysians.
When it comes to travel time, it appears that most of the panelists spend 40 minutes at most on the road. According to the Asian Development Bank, around 44 million people are added to Asia's urban population annually, or roughly 120,000 people each day, putting an enormous strain on transport and mobility. Moreover, motor vehicle fleets are doubling every five to seven years in the region, leading to more congestion and longer travel times. This can cost around 2% to 5% of the region's GDP due to lost time and higher transportation costs.
A more efficient and widely-used public transport infrastructure in the region will provide long-term benefits to the people, not just to the economy, but also to the overall well-being of the population. Additionally, it makes cities more attractive to international talent, tourists, and investors. Local administrators in Asia are aware of these benefits so they invest in infrastructure to alleviate transportation woes. Bus lanes are being upgraded and subways are being constructed. Additionally, many cities are attempting to go green by providing more bike lanes and focusing on electric vehicles and renewable energy sources.
Do you want to share your opinions and earn some points on the side? Sign up now and become part of our surveyon panel! We'd love to hear what you have to say!