Thailand was once a bustling holiday spot and a popular destination in Southeast Asia, but tourism is slowing down, if not completely shut down, from time to time due to imposed local lockdowns that have been set in place for more than a year. The small players in the tourism industry were hit the hardest, and among them are the drivers of tuk-tuk, the popular three-wheeled motor ride in Thailand, who partly depend on tourists for their livelihood. While the reopening of the country is still on indefinite hold, let's find out how the famous rickshaw taxi is getting through this trying time.

Empty streets of Thailand
Thailand had the highest tourist arrivals among Southeast Asian countries and even faced issues on over-tourism in the past. What was once the busiest streets filled with tourists riding the famous open vehicle tuk-tuk, often more expensive than regular taxis, are empty for more than a year now.
There are more than 9,000 registered tuk-tuks across the country according to Thailand's government data. Now that this iconic ride and its drivers are left in the haunting corners of empty city streets, along with hundreds of tour buses and boats, they are left to fend for themselves in an uncertain time.
Tuk-tuk drivers used to earn around 1,500 THB a day, or around 47 USD, back when foot traffic was normal and tourism was still a thing. Since the start of pandemic and social distancing, the drivers could hardly get any passengers for days, as people are also now working from home. Even though the government is encouraging local tourists to indulge in their tourist spots, it is still not enough to pull the tourism industry back, as the number of foreign visitors in 2020 fell to 83% from 2019. Tourism contributed to 20% of Thailand's GDP and most drivers have seen little of the government's approved relief. So how did K-Pop threw in a lifeline?
K-pop meets Thailand's Tuk-Tuks
Before we dive into how these avid fans were able to help one of the recognizable symbols of Thailand, let's take a look at where it took its roots from. While facing the biggest coronavirus outbreak in 2020 Thailand also saw waves of anti-government protests against their Prime Minister Prayuth Chan-o-cha, who came into power through a military coup. The student-led protesters want Prime Minister Prayuth to step down, their constitution to be more democratic, and the monarchy to conform with democratic norms.
The Thai government's resolve for this is to arrest the leaders and shut down mass transit stations - Bangkok's Skytrain and subway services - to impede them from gathering and reaching their protest sites. So how did this lead to K-Pop? The Korean wave is still strong in Thailand and neighboring Southeast Asian countries, and as shown in our recent entry The Power of K-Pop Groups in Endorsement Deals, it just proves how its effect is still felt across the region, like with the recent Mcdonald's campaign launched with the boy band BTS
Thailand and South Korea had taken the opportunity to diversify trade relations between the countries. As of this date, 400 South Korean companies have invested in Thailand, while the trade value between Thailand and South Korea stands at around 470 billion THB or 15 billion USD. This partnership reached various industries, like the friendly esport match organized for Thailand's Game Day earlier this year to promote Thailand's gaming industry in Korea. It's no wonder why K-Pop quickly influenced Thailand's food, fashion, lifestyle, and entertainment. Even some of the top and popular K-idols hail from Thailand, like Blackpink's Lisa, Got7's BamBam, and 2PM's Nichkhun, to name a few.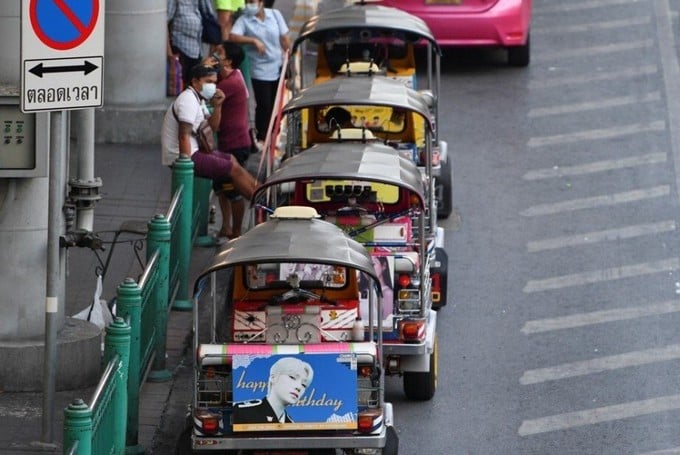 And Thai fans have a longstanding lighthearted tradition of paying huge advertising fees to place their banners of love and support for their idols on billboards and trains. So when the government closed down their mass transportation this led to triggering K-Pop fans that were protesters themselves. So they vowed to pull out from booking ad placements on trains and billboards as a political expression that they don't support capitalists, but this did not stop them from holding up their banners and instead funneled their ad funds to the tuk-tuk drivers and local businesses.
The activism became a helping hand especially to tuk-tuk drivers who live off from giving their taxi services who are now without passengers. For over the past few months the young fans started printing signs and have put up banners of their favorite K-pop idols and bands on the iconic vehicle to provide a new source of income for them.
According to a K-pop Thai fan, Pichaya Prachathomrong, she was able to raise 18,000 baht ($565) from Thai fans supporting K-idols and boy bands, who their new albums or just simply greet their idols on their birthdays, by recruiting tuk-tuks that would carry the banners via a new booking service in LINE app called "Tuk Up", created by a 21-year-old university sophomore Thitipong Lohawech, which now supports about 300 drivers from all over Bangkok. Just from the advertisement alone, tuk-tuk driver Samran Thammasa was able to earn roughly an additional 600 THB, or 19 USD, per month, and sometimes Thai fans stop to take pictures and use their service often with tips.
The K-Pop fans usually put up ads for a month at a time, which guarantees some form of steady income for small businesses such as the tuk-tuk drivers of Thailand, and helps drive social change. As 54-year old driver Pairot Suktham has put it, "the fans are our life support system and give us hope to keep fighting."
Want to know more about what's going on around Southeast Asia? Check out our other Eye on Asia entries. We've got stories on how two wheels became the king of the road in Vietnam or find out about how K-pop endorsement deals are shaping the industry. See you in the next one!