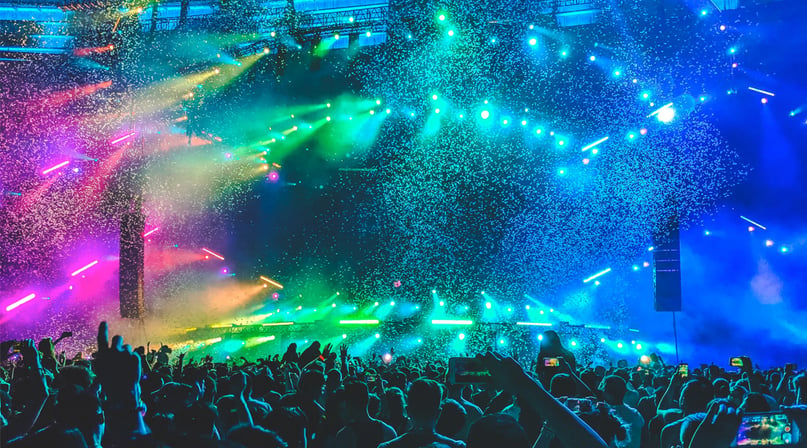 Since its beginning in the late '90s, the global impact of Hallyu, or Korean Wave of pop culture, has become bigger than ever, and this has been truly felt through the rise and dominance of Korean pop music. Dubbed as "South Korea's Greatest Export" by TIME magazine, K-Pop gradually became one of the most lucrative industries in the world, a powerhouse that is already worth five billion dollars as of late. Compared to the earlier explosion of Western boybands and girl groups, K-Pop groups found global success much quicker and better through social media, which helped them establish real-time connections with millions of dedicated fans. This support is most apparent in the rise of K-Pop Twitter fancams, record-breaking YouTube streams, and sold-out concerts and merchandise.
K-Pop music fans have the propensity to spend more for their idols, whether it be concert tickets, albums, or merchandise. https://iprice.ph/trends/insights/how-much-money-do-kpop-fans-spend-on-their-idols/ study by a South East Asia e-commerce aggregator iPrice, the top K-Pop fan groups are the following:
BTS ARMY, with each fan spending an average of 1,422 USD
TWICE's ONCEs, with each fan spending an average of 824 USD, and
BLACKPINK's BLINKs, with each fan spending an average of 665 USD
It is clear that K-Pop fans have the spending power to support their idols, and brands from different industries, ranging from consumer products to banks, see this as an opportunity for collaboration to gain brand recognition. In this article, we focus on three examples of brand collaborations that are currently shaping industries.
Case #1: BTS and the McDonald's Famous Orders campaign
When BTS, the world's biggest band, and McDonald's, the world's biggest fast-food chain, announced a collaboration last April, the internet exploded with posts and messages coming from the fans of both brands. The BTS Meal – which features 10-piece chicken McNuggets, medium fries, medium Coke, and sweet chili and Cajun dipping sauces – follows the format of McDonald's Famous Orders campaign, and is promoted through dynamic in-app content, a merchandise line, and national TV advertising.
Promotions for the McDonald's BTS Meal were started two months in advance.
(source)
This campaign is in line with McDonald's new strategy called "Accelerating the Arches", which aims to convert customers into fans by investing in "new, culturally relevant approaches." They initially partnered with Travis Scott and J Balvin in the US cities in 2020, and they turned out into major successes, as fans pull up to the drive-thru with these artists' songs blaring in their car. These campaigns paved the way for the company's aspiration to have its brand become more current, as well as the power to cede creative control to its fans, who generate content on their own. Sales from the Travis Scott campaign boosted McDonald's sales by 4.6 percent.
In the case of the current partnership with BTS, the scale has become much larger, with more engaged fans who can spread the word and publish creative content on their own. BTS followers are one of the major representatives of the online "stan" culture, where super fans use different online channels, especially social media, to continuously promote and defend their idols. According to Twitter, BTS has been the most-tweeted-about band on Twitter for four consecutive years, and the BTS ARMY takes pride in this fact.
BTS's impact on the world encompasses music, culture, and even the economy. In 2019, the group's earnings from ticket sales, music downloads, and merchandise reportedly amounted to 4.65 billion USD, which accounts for a sizeable 0.3 percent contribution to South Korea's GDP. The band has built by itself a merchandising and endorsement enterprise on a scale never seen before in the Western hemisphere, thanks partly to its dominating social media presence that reaches millions of eager fans worldwide. According to Paul Han, co-founder of the Korean pop news site Allkpop.com, "people will buy anything they touch."
BTS star power is at par with, if not ahead of, their Western contemporaries in pop music. Like Taylor Swift, One Direction, and Beyoncé, the group can sell out London's 90,000 capacity Wembley Stadium, but unlike them, BTS did it in just 90 minutes. Also in 2019, the group's tour crashed the TicketMaster website, selling out 300,000 tickets in minutes, with the average ticket price at 452 USD.
According to the aforementioned article on fan spending from iPrice, an average BTS ARMY member spends $545 on merchandise, $541 on concert tickets, and $336 on music. Each ARMY member on average owns 15 BTS albums and has bought concert tickets five times.
Due to the immense popularity and selling power of BTS, McDonald's needed to keep up to make their partnership succeed. In previous campaigns, every McDonald's market uses local insights to develop to establish marketing calendars. On the other hand, the campaign with BTS is the first one that is launched in over 50 countries almost simultaneously. In Asia, the BTS Meal will be launched in stages across 11 countries, namely the Philippines, Korea, Malaysia, Indonesia, India, Hong Kong, Taiwan, Singapore, Thailand, Vietnam, and Macau. In the countries that have launched the campaign, the BTS effect was truly felt.
In Malaysia, the first country to launch the meal, the McDonald's delivery app and website crashed due to the sudden rush of orders, and the hashtags #BTSMeal and #BTSxMcDonalds topped the list of trending topics for days. In Indonesia, branches were forced to halt operations due to the high orders and the resulting influx of food delivery riders in each branch. The campaign did not cover Japan, so the Mcdonald's Japan Twitter account was flooded with requests to sell the meal.
Eugene Lee, the regional marketing director for McDonald's in Asia, attested that the preparation and execution of the campaign were challenging but the response has been "phenomenal." "Out of the top ten ARMY countries in the world, seven of them are Asian markets," he said. "We knew the response would be tremendous, but it has been overwhelming so far," he added. It is said that BTS has earned roughly 8.89 million USD for the campaign, but McDonald's is confident that this partnership will exceed expectations both in improving the brand and having remarkable profit.
According to Lee, on top of the sales figures, the success of the campaign is measured by brand love and affinity scores. Aside from the meals, the campaign also featured a line of limited-edition merchandise like bathrobes, hoodies, and socks, an activity that was successful in the previous campaigns. In previous cases, even the Scott Travis meal receipts were collected, framed, and sold on eBay, and it is highly expected that the same case will happen with the BTS Meal.
Case #2: TWICE's foray into the gaming world
Currently regarded as the queens of K-Pop, TWICE takes second place in the richest K-Pop group listings. This is attributed to their very strong album and concert sales, especially in Korea and Japan, and their extensive list of very lucrative endorsement deals since their formation in 2015. Their most notable endorsements range from Estée Lauder, Nike Air Max, and Yahoo! Japan. One interesting endorsement deal was with Pocari Sweat, which was supposedly jumpstarted by a TWICE fan art that got Pocari Sweat's attention on Facebook.
In 2021, TWICE signed brand deals with Sudden Attack, Lemona, and A'pieu Cosmetics, but the most notable endorsement this year is with Nintendo to promote the Switch console. Recently, Nintendo Korea released promotional shots of TWICE on its website, showing the members playing several popular Nintendo Switch games in teams.
This partnership has been received well by fans due to many reasons. Firstly, TWICE is the most popular K-Pop group in Japan, with 38% of the Japanese public recognizing the group. They have also become the first K-Pop girl group to take a Japanese dome tour, which they completed in 2019, and they have 10 million albums sold in Japan as of 2020. Secondly, the group's signature "color pop", a style based on bubblegum pop infused with electronica, hip hop, and other genres, gives an overall wholesome vibe and sets them apart from tough "girl crush" looks from other groups. This vibe is in alignment with Nintendo's family-friendly image. More importantly, TWICE is not a stranger to the gaming community and collaborations with video games.
The group has previously collaborated with League of Legends virtual group K/DA for a song in the latter's All Out EP, and there was a time when Jihyo attested her love for the multiplayer online battle arena game, even naming her favorite champion. TWICE member Mina was known to have live-streamed playing Minecraft and purchased a gaming computer so she can "play properly." Before the Nintendo partnership, their song "Feel Special" appeared in the Just Dance 2021 game on Nintendo Switch.
A year before the Nintendo Switch partnership, TWICE's Momo posted a video of her
playing Animal Crossing on the console, much to the excitement of fans.
(source)
At the moment, fans are hoping that there will be more that will come out of this partnership. Some ONCEs are speculating that the group may release a new reality series where the members will play different Nintendo Switch games every episode, while some are hoping that the group will release a limited-edition TWICE-themed Switch console.
Case #3: The BLACKPINK Effect in the fashion industry
South Korean group BLACKPINK has a long line of endorsement deals ever since it was formed by YG Entertainment in 2016, from cars, drinks, banks, and even South Korea's customs service. However, the most notable endorsements from the group come mostly from the fashion industry. Recently, three of the girls partnered with the LVMH to serve as ambassadors for the French multinational company's folio of luxury brands – Jisoo for Dior Beauty, Lisa for CELINE, and Rosé for Saint Laurent. Meanwhile, BLACKPINK's Jennie Kim, dubbed as "human Chanel" by their fans, is currently promoting Chanel as its house ambassador. Additionally, MAC Cosmetics announced its partnership with Lisa as its global ambassador, with the announcement itself earning ten million impressions across different social media channels.
The reason behind BLACKPINK's appeal in the fashion world is due partly to the global brand curated by YG Entertainment. The four girls stood out with their talents and personalities, which were further showcased as a team. To enhance their branding, the group receives support from a consummate group of in-house artists and professionals to create their distinct international sound and appeal. Moreover, the group's artistry is recognized by global artists like Lady Gaga, Cardi B, Selena Gomez, Ariana Grande, and David Guetta, all of whom contributed to the group's debut album.
In terms of BLACKPINK's look, the group is supported by stylist Choi Kyung Won, who has worked with them since their debut. According to her interview in WWD, her vision for the group is "to create a really different idea with their look to be at the epitome of women's fashion in South Korea – to create a new milestone." She added, "the group is more loved by people who love fashion… BLACKPINK is more for people who appreciate style."
The group's style is curated and documented through two notable Instagram accounts, @blackpinkstyles and @blackpinkcloset, which have 111,000 and 180,000 followers respectively. These two accounts showcase the group's designer looks to help fans replicate their style. As further proof of the group's selling power, Choi mentioned that different brands sponsor BLACKPINK's "airport looks", referring to the different styles the group wear when entering and leaving airports, an opportune moment for both BLINKs and paparazzi alike. When designers see their sales go up with the group's media coverage, they become more eager to partner with them.
BLACKPINK's airport fashion style has been documented since its formation in 2016.
(source)
Additionally, what sets BLACKPINK apart from other K-Pop groups is that Jennie, Jisoo, Lisa, and Rosé also handle their own Instagram accounts, which enable them to connect more with their fanbase, in different languages, nonetheless. They have a combined 132 million followers on the platform, extending their already wide international reach. Instagram provided a platform for each member to go beyond Asia, which is the largest market for Korean culture and entertainment. One hallmark event that defined their arrival to the Western market was their performance at Coachella in 2019, the first K-Pop girl group to do so.
Today the group has an estimated net worth of 32 million USD, but that estimate does not even cover what each member has going on apart from their roles within the group.
Like the BTS ARMY, BLINKs are especially becoming more prominent in the US, and they have helped their favorite groups to top the US charts with their well-organized social media campaigns. Their level of dedication is unparalleled, which translates to sales boosts for different brands, as they organize online to purchase products endorsed by these groups.
How brands can benefit
For these partnerships to succeed, brands must first understand the fans and clarify their objectives. According to David Kim, who runs the YouTube channel DKDTV, K-Pop fans are more than consumers, as they are compared to a parent giving unconditional love and support for the bands, while at the same time having viral commercial power. Properly curated campaigns will win unwavering support from millions of potential new customers. On the other hand, even the smallest campaign miscalculations can lead to widespread and disproportionate condemnation on social media.
Additionally, Kyjan Keith, head of brand and communications at Lemonade, advised that aside from consuming content from their idols, K-Pop fans rally and personify what the content stands for. "Its fandom truly transmutes into something greater than what a non-K-Pop fan can even comprehend," he said.
In terms of marketing objectives, brands should take note of the intent of their campaigns from the beginning. If the aim is to improve brand awareness, then the metrics should be based on PR value, views, and engagements. If the campaign is more focused on sales performance, then brands should be able to measure through sales conversions.
Want to know more interesting Asian insights? Check out our other Eye on Asia articles like social media in the Philippines or Japan's cherry blossom economy. Also, check out this feature about dataSpring's Korean online research panels.