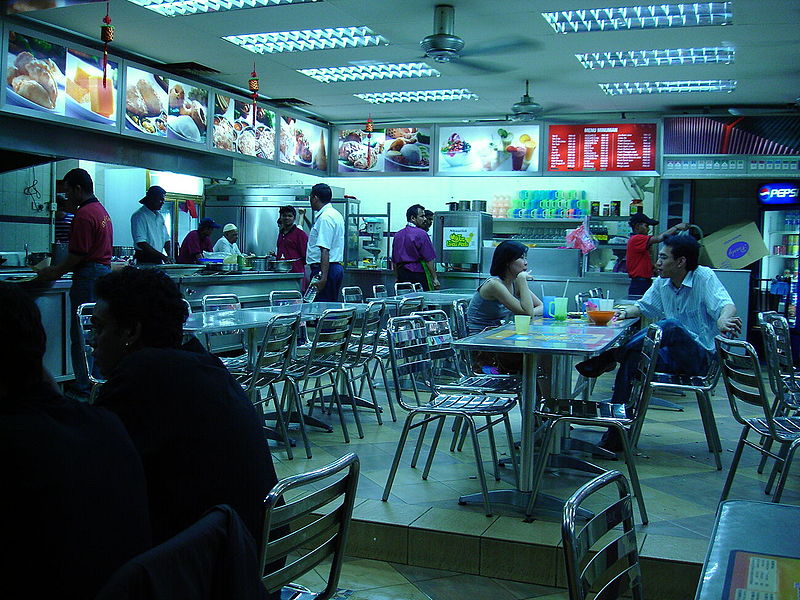 Mamak food stalls are the cornerstones of Malaysian street food culture. Created by the Indian Muslim community in Malaysia, mamak stalls are roadside open-air eateries that primarily sell Malay Indian food. These are places where all locals can gather to eat, drink, talk, and watch live football matches on TV screens. Open 24 hours a day, mamak stalls are more than just food outlets, as these are places that offer refuge for Malaysians who want to satisfy their cravings and be part of a fun and food-loving local community.
The word "mamak" is derived from the term for maternal uncle in the Tamil language, "maa-ma". It is also used as a way to respectfully greet older male shopkeepers. With centuries worth of Malay, Chinese, and Indian culinary influence, the mamak stall is essentially a melting pot of various cultures, offering an assortment of food that has harmoniously integrated local and imported ingredients and cuisine. Diners can enjoy Chinese-style fried rice, Malay-style dishes like Nasi Lemak, Indian food like Vadai, and even Yemeni-style Shawarma and Thai Tom Yum Goong, usually accompanied by a glass of teh tarik, or pulled tea, the nation's favorite drink. All of the stalls are generally halal (adhering to Muslim dietary requirements), so there's no pork or alcohol on the menu.
Mamak stalls are found almost everywhere throughout Malaysia. In city centers like Kuala Lumpur and Petaling Jaya, mamak stalls cater to residents 24/7, so it has become the favorite place for people from all walks of life, from workers taking their 9-to-5 breaks to partygoers who want a quick late-night food trip. The mamak culture is very popular among young adults and teenagers, who find mamaks safe places to hang out with friends at night, and find the food and drinks very affordable and tasty, like fried noodles that are priced for just 6 RM, or 1.50 USD. Malaysians are always on the lookout for great places, and the perfect spot for the night is impossible to miss. Modern mamak stalls have a café style layout, furnished with decent seating arrangements and televisions sets to allow customers to watch the latest TV shows and sports programs as they dine.
The mamak stalls are very trendy among Malaysian night goers. Instead of hanging out at a pub or watering hole, Malaysians prefer to visit these stalls, where foldable tables and chairs await them along the sidewalks, and some even taking over parking spaces. Some of the bigger and more popular stalls can fill up the whole street with hundreds of people.
Additionally, mamak stalls are places where the spirit of football is alive. Whenever there's a game, football fans gather around TV sets, and more recently on projector screens, to watch the game. A football night in a mamak stall is comparable to a stadium atmosphere, with crowds cheering loudly for their favorite clubs and players. On important game nights, plastic chairs and tables would be set up along the sidewalks, with patrons spilling into the streets.
Challenged by the Pandemic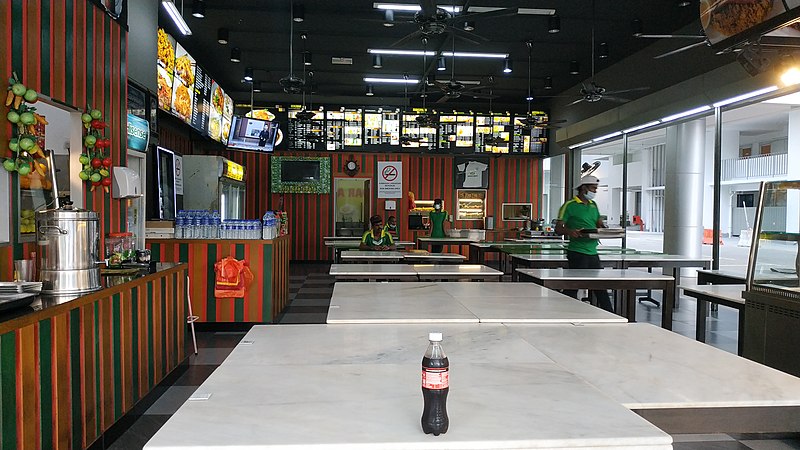 Due to the COVID-19 pandemic, the notion of mamaks as places for community gatherings has been challenged by restrictions and lockdowns. When the Movement Control Order was put in place by the Malaysian government in 2020, mamak operators saw their daily sales decline significantly. In January 2021, operators mentioned that they are recording a maximum of 25 to 30% sales only, which is far less than what they earned during the previous year. What were once tables that can barely accommodate customers were limited to only two people at a time, which proved to be effective in curbing COVID-19 transmissions and helping mamak owners at least gain more customers. Additionally, the operators' request to extend opening hours from 6:00 am to 10:00 pm, instead of just 8:00 pm, was granted by the government, and this allowed them to cater to more customers to get food during the evenings.
Some establishments are trying to be more creative to get more customers. In Cyberjaya, a satellite city on the outskirts of Kuala Lumpur, an establishment offers a park-in dining service where customers can enjoy food in the safety of their cars. For other customers who don't have cars and can't leave their homes, using food delivery services was the perfect alternative.
Like other establishments in Malaysia, mamak stalls have welcomed the measures that the government has placed during the pandemic, including the lockdown that was placed on June 1, but they are pleading for assistance to help them get through the times. Malaysian Muslim Restaurant Owners Association (PRESMA) president Jawahar Ali Taib Khan mentioned that they were expecting the lockdown, as they were part of those who made earlier calls to stop the COVID-19 outbreak.
In Sabah, dining in has been allowed for all patrons since June 29, provided that everyone adheres to strict standard operating procedures. Meanwhile, in Sarawak, dining in has been allowed for people since July 16, given that they have taken at least one dose of a vaccine. In Perlis, queues of people have already been seen snaking outside the stalls since August 4.
On August 8, Prime Minister Tan Sri Muhyiddin Yassin announced that dine-ins at establishments will be allowed for fully vaccinated diners only, though he advised that people should not hang around after meals. The PRESMA agrees with this, stating that patrons would not be able to "lemak" (hang around) at establishments anytime soon. At the moment, dining in is only allowed in Malaysian states that are undergoing Phase Two of the National Recovery Plan, and many customers would prefer to stay for just 30 minutes to have their meal and tea and leave because they have already grown used to the takeaway concept.
Mamak operators are concerned with both the safety of customers and workers, even if many workers have already been fully vaccinated. As of early August, only six states have transitioned to Phase Two of the National Recovery Plan (Perlis, Kelantan, Perak, Pahang, Terengganu, and Penang), while other areas, especially Klang Valley and Selangor, where most mamaks are concentrated, won't be able to allow dine-in services due to Phase One restrictions.
Eating out in mamak stalls with friends and family is part of what residents want to do after getting fully vaccinated, especially in the densely-populated areas of Kuala Lumpur and Selangor, which has been under full lockdown since June. Despite this, they are still very worried about the continuing high rate of daily infections. Some customers think that observance of preventive measures such as wearing masks and observing social distancing can make dining safe, while others think that dining in will make lives bring some semblance of normality. However, many agree that it would be better to wait a little longer before easing restrictions.
Get to know more cool things about Asian culture with our other Eye on Asia entries! With got stories on Singapore's hawker culture and Thailand's street food. See you in the next one!