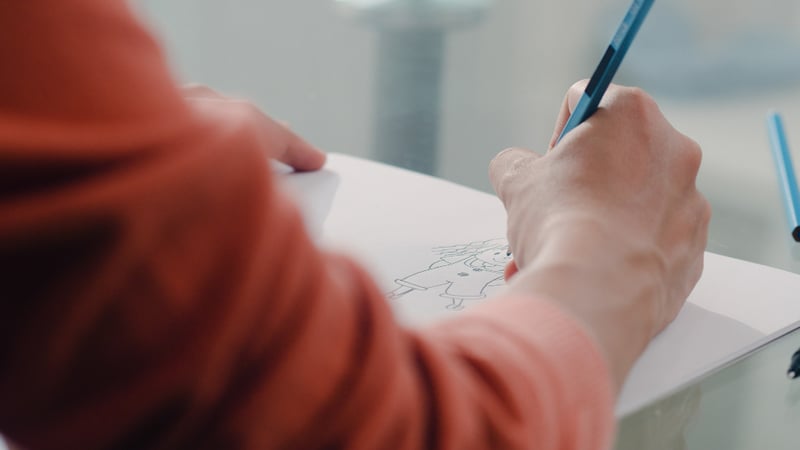 Content developed and released in South Korea, known as K-content, is reaching out to a wider audience. As K-pop artists dominate the charts and Korean films and series generate buzz among fans and critics alike, the Korean Wave, or Hallyu, is not showing any signs of slowing down.
South Korean animation, now also known as aeni, might be on the verge of following the global successes of the country's other cultural exports. From starting out as an outsourcing hub for foreign animated shows to exporting popular and critically praised original content, it will not be a surprise if the Korean animation industry will get a bigger spotlight in the coming years.
An Animated History
The story of the aeni industry started in the 60s and 70s when the three major American networks – namely ABC, CBS, and NBC – started to air Saturday morning cartoons like Scooby-Doo and Fat Albert. Due to the immense popularity of these shows, American animation studios struggled to meet the demand for more episodes and had to outsource production to several international studios, which include those based in South Korea. The Korean animators proved to be technically proficient and quick, so more projects began pouring in. By the 1990s, South Korea was taking in up to 50% of the world's subcontracted animation.
The development of CGI animation technology in the 2000s further propelled Korean animation companies onto the global stage. The aeni companies earned a reputation for releasing high-quality material, with vivid colors and well-crafted storylines. For example, the Baby Shark Dance became one of the most viewed children's content on YouTube, with more than 10 billion views, while Pororo the Little Penguin became a favorite by millions of kids around the world. Likewise, the success of films like the animated feature thriller Beauty Water, which became a hit in the film festival circuit in 2020, has boosted confidence in the animation industry.
In 2016, the Korean animation industry has blossomed to a network of around 120 studios, developing content for Fox, Dreamworks, Nickelodeon, and Cartoon Network, and in 2020 it has grown to 509 animation studios operating across the country, more than half of which are based in Seoul. Viewers may not be aware of the close relationship between Korean and American productions, except for those who pay close attention to end credits of American cartoon shows.
Continuing the Evolution
Currently, fierce competition within the Korean animation market, which is still relatively small compared to China and Japan, has helped in the development of the industry and has given local talents the drive to improve their skills in both animation and toy production to compete at a global level. Markets across Asia, including China, have recognized the high quality of Korean-produced animation, which is exported along with games and toys.
Until now, many animated series in the US, like The Simpsons, Bob's Burgers, and Family Guy are still hand-drawn in South Korea, but this will be eventually phased out with new animation techniques and technology. While American primetime cartoon series are conceptualized and written in the US, most of the animation is done in South Korea. Animation requires at least 12 frames for every second, and originally Korean artists draw each frame on paper, starting with the characters' key poses, then the so-called "in-betweening", which is the painstaking process of filling out incremental micro-movements so that the motion looks smooth. In this setup, Korean animators can draw 240 pages for a single twenty-second scene or roughly 7,000 drawings per half-hour episode.
This traditional style of animation posed a major challenge in the industry as recently as 2016, as it developed a technical divide in the two countries. As American studios have mostly used digital animation tools for years, Korean studios were not able to quickly adapt to the change, causing delays in submission and revisions of scenes. Fortunately, Korean studios have now followed the path towards digital animation, alongside developments in the video game industry.
Onward with Original Content
While aeni has become a billion-dollar industry, it is known mainly for producing content for other countries' companies, but in recent years, it has proved itself to be something more, a Korean industry that can generate original and exciting content.
Historically, aeni feature films have struggled to draw viewers, with movies like My Beautiful Girl, Mari (2001), Wonderful Days (2003), Oseam (2003), Aachi & Ssipak (2005), and Yobi, the Five Tailed Fox (2006) all underperforming at the box office. In fact, no domestic animated film had ever achieved one million viewers by then. It was only in 2011 when the industry had a glimmer of hope, when the animated drama film Leafie, A Hen into the Wild gained commercial and critical success, and went on to rake in more than 2.2 million tickets, recouping its production budget in just four weeks. The film's director, Oh Sung-yoon, later produced the animated adventure film Underdog in 2018, which sold out in just nine seconds for its premiere at the 22nd Bucheon International Fantastic Film Festival. The film was also chosen to be shown in North Korea as the first entry of the film exchange program of the two nations and became the first Korean film to be featured in the Tokyo Anime Award Festival.
Aeni continues to introduce original content across other platforms, from TV to online. For example, SAMG Entertainment, a Korean company known for releasing world-class CGI productions for children's entertainment, as well as the main production partner of the widely successful French superhero series Miraculous, released the shows Miniforce and Catch! Teenieping, which became hugely popular in the Asian market, with as many as 35 billion views in China alone. Miniforce, which was introduced back in 2014, has had many reiterations throughout the years, leading to its current version, Miniforce: Super Dino Power.
For some, however, aeni remains to be seen. According to a video by YouTuber Wookong, which narrates the history of the industry, Korean animation remains in obscurity. While it is no longer just known globally for outsourced animation, it has yet to produce a genuine breakout hit, which other entertainment industries in Korea have achieved. The YouTuber suggests some reasons for this, mainly with the fact that "investors lack the confidence to promote effectively" but remains optimistic as the industry has the talent and potential to trigger a new wave of Korean influence globally.
Want to know more interesting Asian insights? Check out our other Eye on Asia articles like the power of K-pop groups in product endorsements or Korea's wildly successful gaming industry. Also, check out this feature about dataSpring's Korean online research panels.