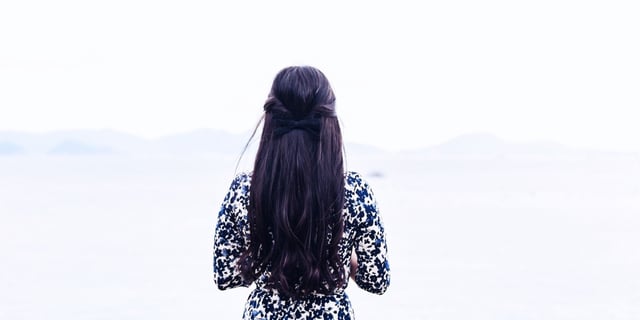 Beauty is always a trending topic in Asia. Whether it be beauty based mobile applications or the latest health drink for great skin, Asian consumers are very mindful when it comes to health and beauty.
Because of the topic's popularity, dataSpring conducted a survey across three Asian countries: China, South Korea, and Indonesia, about shampoo buyer behavior. We examine the behavior of Asian consumers about their hair care products.
Survey Method: Online Research
Countries: China・South Korea・Indonesia
Targeting/Criteria: F, Shampoo Users, 20-49-year-old
Survey Period: June 5, 2017 (Monday) - June 8, 2017 (Thursday)
Quota: Gender × Age (20-29/30-39/40-49) equal split
Complete N: 150 samples per country (total 450)
1. Among shampoo users, those from China and Indonesia were more likely to also use conditioner while South Korean users preferred to use treatment
Q. Please tell us what hair care products you are currently using.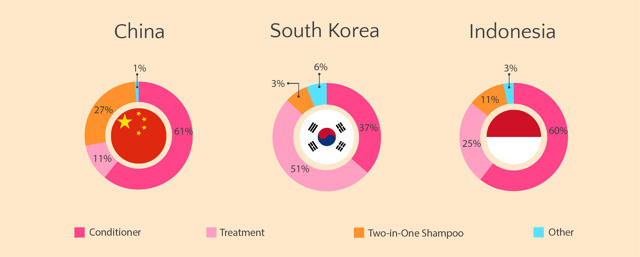 *base: 20-49-year-old female who use shampoo to wash their hair (150 samples per country)
2. Among users surveyed, only in South Korea did local brands outnumber foreign brands within the top 10 most recognized brands
Q. Please choose all the shampoo brands that you recognize from below.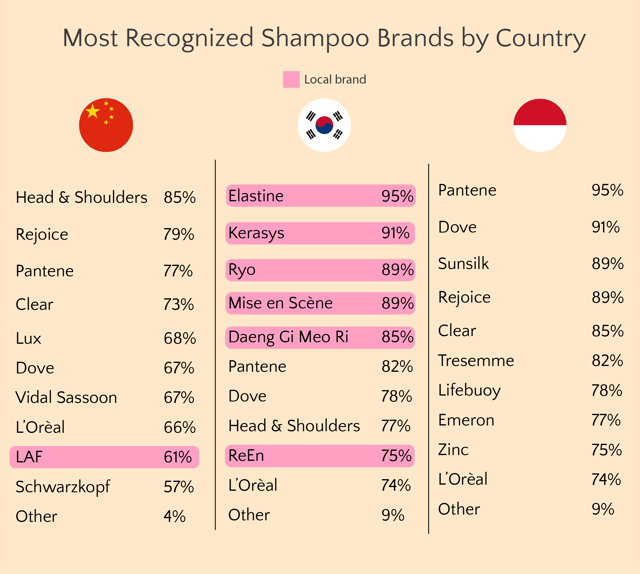 *base: 20-49-year-old female who use shampoo to wash their hair (150 samples per country)
We asked shampoo brands that the panels of each country know. (We presented 13 brands per country)
The most recognized brand in China was Head & Shoulders (85%) and followed by Rejoice (79%)
The brand with the highest recognition rate in South Korea was Elastine (95%) and Kerasys, was ranked second (91%).
The most recognized brand in Indonesia was Pantene (79%), followed by Dove (72%) and Sunsilk (72%).
In South Korea, many local shampoo brands were recognized with six local brands placed in the top 10 list
3. Only in South Korea, were local brands among the top five most used brands
Q. Choose the shampoo brand that you are currently using.
(For those who are using multiple brands, please answer the one that you use the most)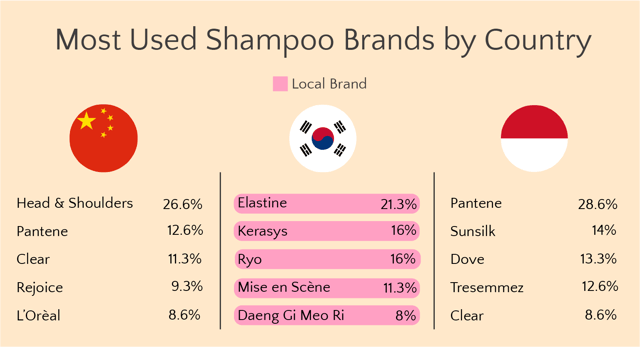 *base: 20-49-year-old female who use shampoo to wash their hair (150 samples per country)
A peek into the South Korean market
Seeing the data begs the question, "Why are local brands ranked high in both recognition and use, more so in South Korea, than the other two countries?" We looked to our Korean panelists for answers and here is what we found: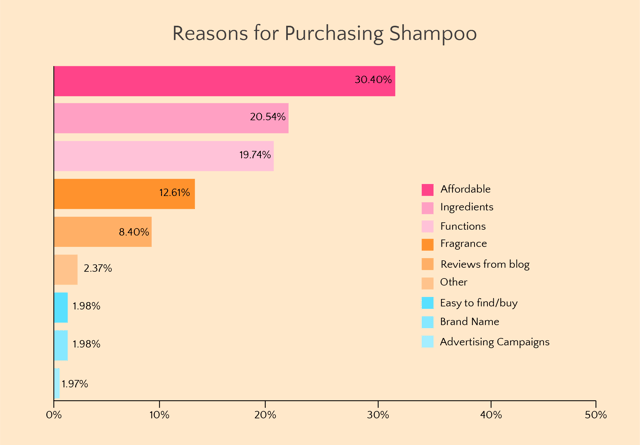 We asked around 10,000 South Korean female panelists for the reasons they purchased their shampoo. And found that Affordability, Ingredients, and Functions were the three most important factors when deciding to purchase.
One panelist even commented "I don't usually buy foreign brands because the quality of Korean brands is good enough for the price. Many foreign brands sell premium [more expensive] products. And I think Korean brands are good at being localized."
Conclusion: Shampoo Study Across Asia
Manufacturers, brands and retailers will need a strong sense of affordability and benefits of use in order to deliver on the growing consumer expectations and demand. Though in most Asian markets, the brand name is seen as one of the top deciding factors of purchase, there is a growing trend of the importance of the function and price of products over brand name.
We hope this was an educational and interesting read for you. If you would like to run an online or mobile study in Asia, please don't hesitate to contact us!