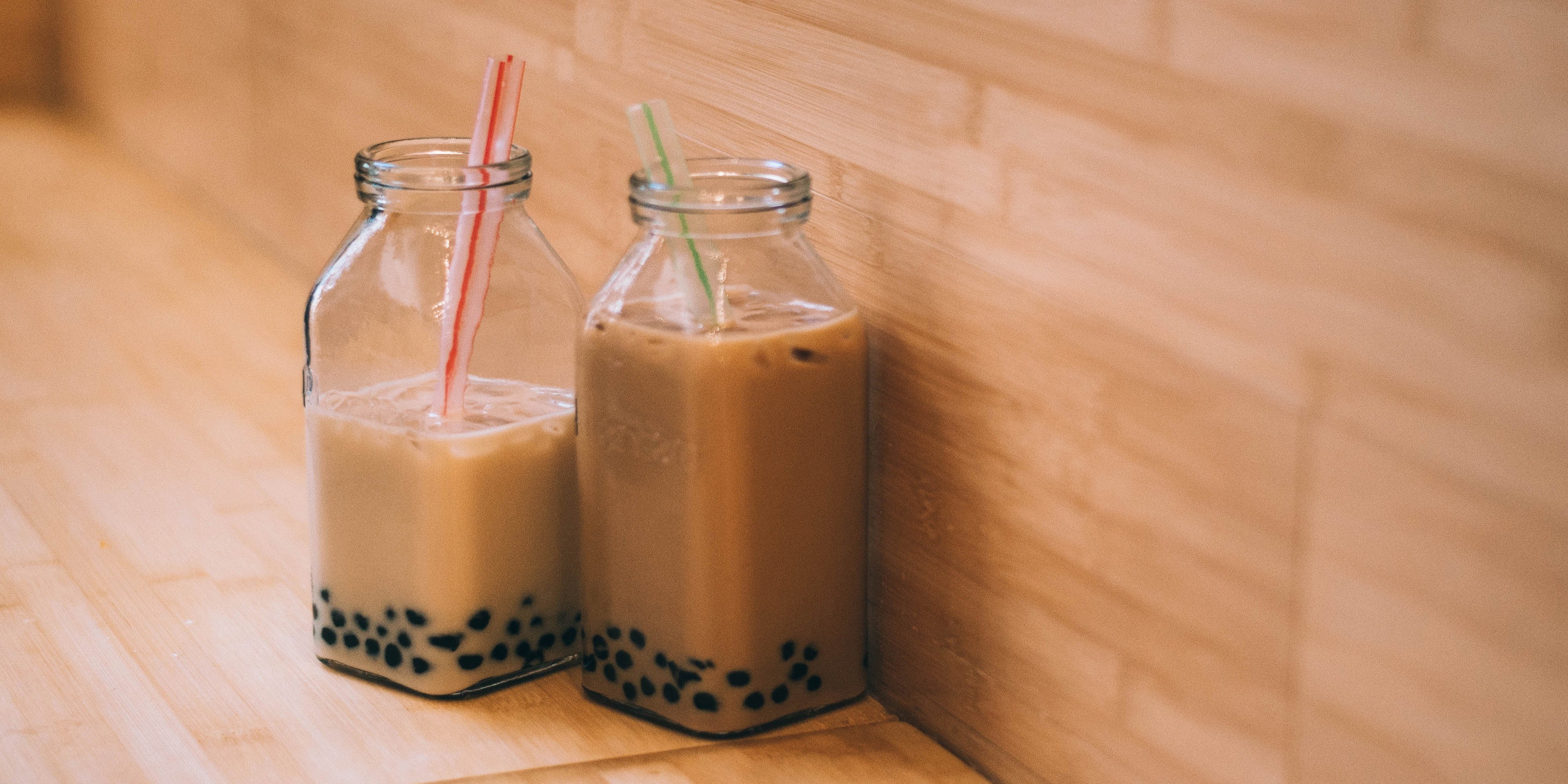 Maybe it's the cold and creamy tea that goes silkily down your throat? Maybe it's the satisfying feeling of chewing tapioca pearls? One thing's for sure – we're hooked on bubble tea!
Bubble tea (also called pearl milk tea, bubble milk tea, or simply, boba) has been one of the most prolific drinks to cross over from the East to Western shores in modern times and has taken the world's youth culture and online foodies by storm.
Globally, the bubble tea market is valued at USD 1.94 billion as of 2017 and is expected to grow further at a rate of 8.5% over the forecasted period of 2018-2025. Now that's a lot of boba drinkers!
A Tale of Two Teahouses
Although the exact birthplace of this chewy tapioca drink is hard to pinpoint, it can be safely said that bubble tea's journey to global recognition begins in the 1980s in Taiwan. Two rival teahouse chain claim responsibility for its creation - Hanlin Tea Room (翰林茶館) in Tainan and Chun Shui Tang (春水堂人文茶館) in Taichung.
Hanlin Tea Room insists that they came up with the idea back in 1986 when its founder, Tu Tsung-ho, spotted white-colored tapioca balls on sale at a market and had a sudden flash of inspiration to cook them and add them to milk tea. He found the texture pleasing and called the beverage 'pearl milk tea' because of the pearly semi-translucent white tapioca pearls.
Chun Shui Tang, on the other hands, claims that the origin of the drink can be attributed to their employee, Lin Hsiu-hui, in 1987. They claim that Lin experimented by mixing her favorite childhood snack, tapioca balls, with iced milk tea and lemon black tea.
The two teahouses then became locked in a bitter dispute, filing lawsuits against each other and eventually going to court. Since neither one of them was able to patent or trademark the product, however, pearl milk tea had become a staple in teahouses across Taiwan by the mid-1990s.
From Taiwan to the World
Fast forward to today and bubble tea has become a phenomenon not just in Taiwan but also across the globe. GrabFood, the food delivery service of the Southeast Asian ride-hailing company, Grab, highlighted Southeast Asia's growing obsession with the drink. Orders for bubble tea has seen a constant and dramatic increase in 2018 with a regional average growth rate of 3,000%! Because of this increasing consumer demand, GrabFood now has around 4,000 bubble tea outlets in their networks of over 1,500 brands – a 200% growth in bubble tea outlets in the region.

Grab website
Based on Grab's data, Thai customers take the top spot in bubble tea consumption with six cups per person per month. They're followed by the Philippines with an average of five cups and then Malaysia, Singapore, Vietnam, and Indonesia with three cups per person per month.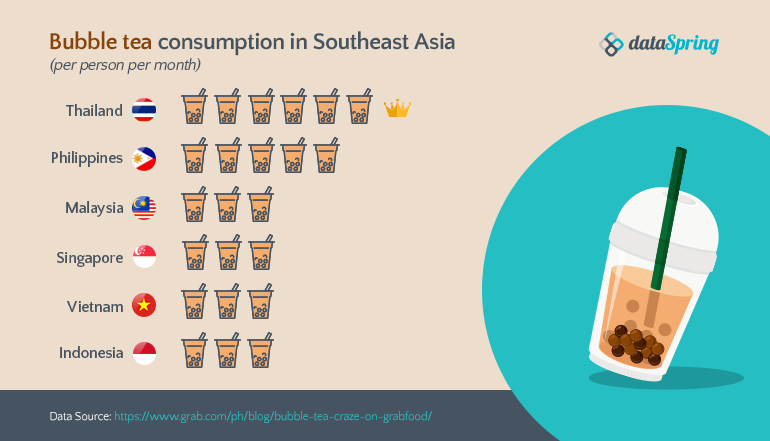 Among their most popular bubble tea merchants are Chatime, Coco Fresh Tea & Juice, Macao Imperial Tea, Cafe Amazon, Gong Cha, and Serenitea. Their data also shows that Southeast Asians enjoy their bubble tea most during lunchtime, between 12 noon and 2 pm. The second most popular time for bubble tea is between 3 pm and 4 pm.

But where exactly is all this hype coming from? Is the taste that good to be able to get teens and young adults queuing up – for hours even – just for a sip of this gooey, and oh so chewy treat? Moeko Ohno, a representative director of a consulting firm in Japan that deals with workplace relationships, shares some underlying reasons for its popularity:
People with little confidence in themselves buy bubble tea as they want to feel validated.
People get a sense of security from doing something that so many others are doing.
Although taste in itself plays a huge factor, we also have to look at its audience as well. For impressionable youngsters, whose worldview might be limited to just their schools and immediate social circles, the influence of peers over them can be a great factor in dictating their behavior.
Queuing up for a cup of boba, or engaging in an activity that everyone else is doing, gives them a sense of belonging. A sort of proof that their behavior is not out of the norm. And with this validation comes a sense of security from being part of a majority.
This has become a sort of self-fulfilling prophecy, especially in the age of social media where the hype shared online serves as tinder for further hype and sustain traction.
What's Next?
Bubble tea has been designed to appeal to younger consumers. A lot of brands have jumped into the bandwagon of viral food trends. This trend tested brands' creativity and has made brands focus on the unique flavor and topping combinations to stand out among an ocean of competitors and get the attention of their millennial clientele.
Despite these attempts at product innovation, the overall business models for most brands have been stagnant. Although it's seen growth at breakneck speed, the struggle now is to break out of its teen-shaped box – the same box it owes a large part of the success to. It has not yet, in any way, showed any signs of replacing your morning coffee or evening cocktail.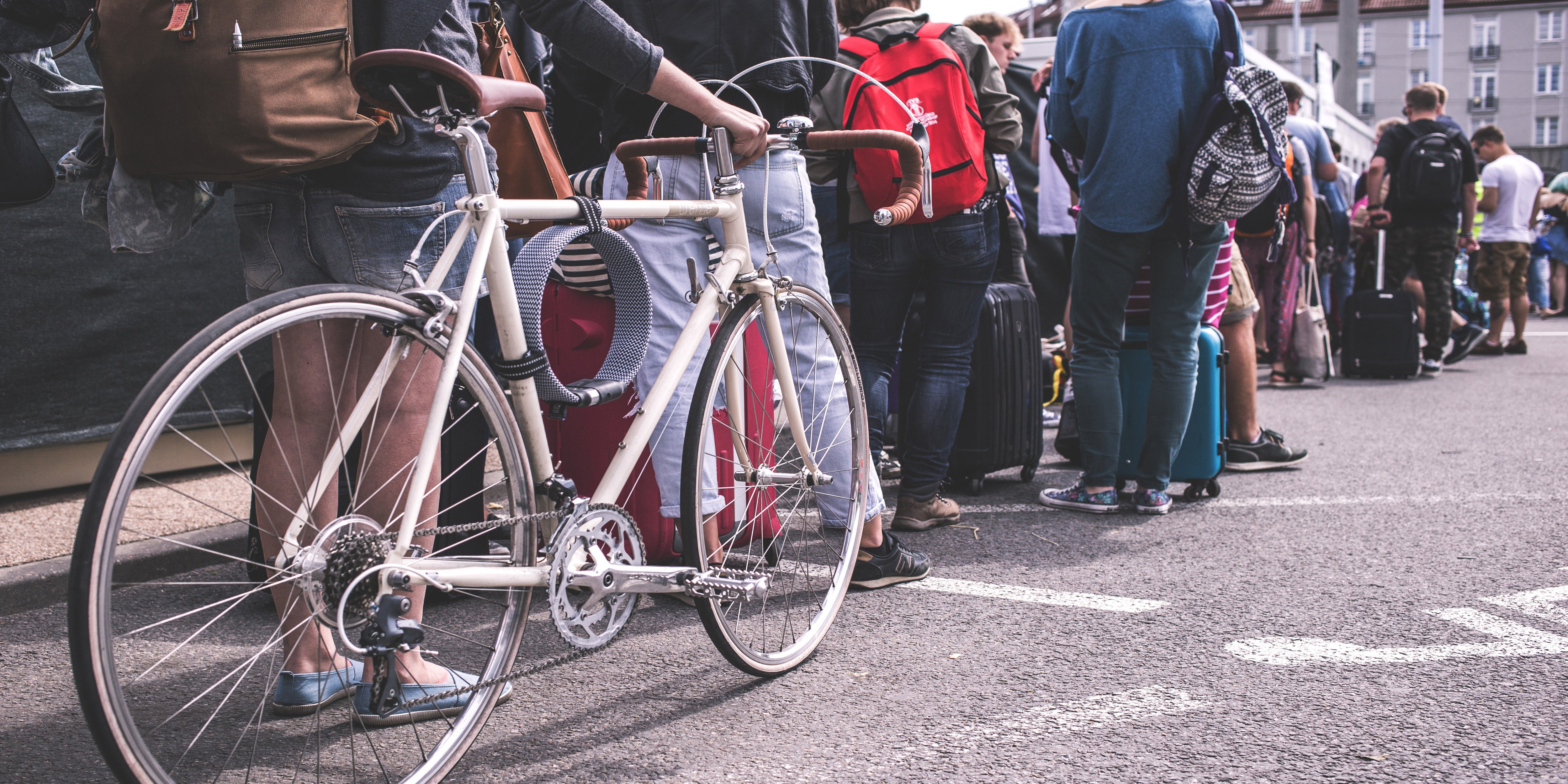 Want to get to know the Asian consumer better? Then online research panels just might be the answer to your market research needs. Click here to learn more about how the use of online research panels can open up a world of ease for researchers.
If you want to read more about other tasty treats in Asia, check out our previous entries like China's mooncake madness or the coffee culture in Vietnam. Also, check out this feature about dataSpring's Taiwan online research panels. See you in the next installment!