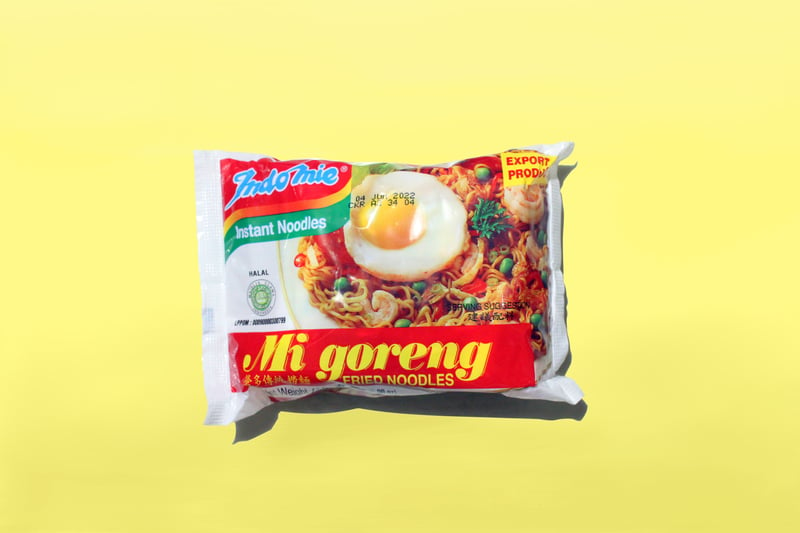 In a world where convenience is key, none has come to the rescue of overworked parents, broke college students, and struggling workers alike than instant noodles.
They're cheap, easy to cook, and have become an indispensable part of kitchens around the world. But of course, not all noodles are made equal. In a market that's mostly dominated by East Asian brands, this Indonesian household name has taken the world by storm and become a cult favorite among noodle lovers everywhere!
An Instant Classic
But first things first. We have to talk about how it all started.
The creation of instant noodles was a game-changer in Asian cuisine. What started as a cheap and easy way of filling your belly, ever-present in Asian kitchens, made its way across oceans and is now consumed all over the world. Ironically, it was first regarded as a luxury food item in its early days as it was priced higher than fresh noodles at the time.
The birth of instant noodles can be traced back to Taiwanese-Japanese inventor and entrepreneur, Momofuku Ando. According to Ando, the inspiration for the invention came one cold winter's night when he saw people queuing up in front of a ramen stall back in postwar Osaka. With food shortages still rampant at the time, he believed that noodles could be the solution to world hunger.
Although this altruistic origin story had been met with debate, the impact of his invention would be undeniable. Ando would go on to develop the entire manufacturing process that allowed him to create noodles that lasted for months. This was done by steaming the noodles in chicken broth and then dehydrating them by "flash-frying" them in oil. After months of trial and error, he perfected the method and by 1958, founded Nissin and the rest, as they say, is history.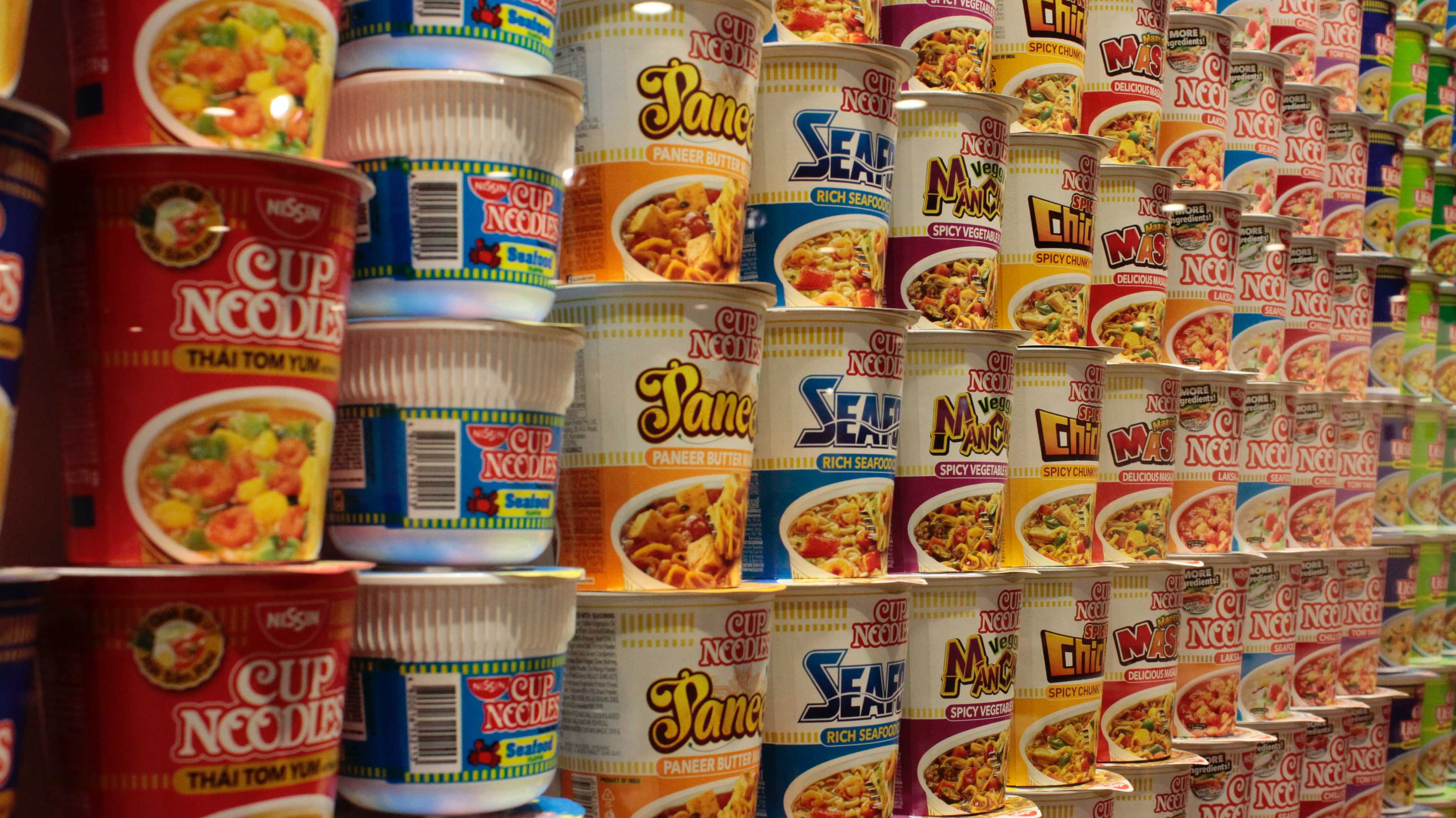 A Different Flavor
Because of its origin, many associate instant noodles with brands and flavors from Japan or other East Asian countries like China or Korea. Despite this, one Indonesian brand has been serving up a different flavor that's taken the world by storm – Indomie.
Indomie, whose name is a combination of "Indo" for Indonesia and "mie", meaning noodles, started by producing chicken-flavored noodle soup in its domestic Indonesian market back in 1972. It wasn't until 1982, however, when the company would leave its mark on the world with the introduction of its Mi Goreng variant.
Developed by Nunuk Nuraini, the Mi Goreng variant was Indomie's first foray into instant dry noodles. The variant was inspired by the Indonesian traditional dish of the same name. The homemade – or street cart, most likely – version is made by stir-frying thin yellow wheat noodles in hot oil and mixing in shallots, garlic, onion, kecap manis (a sweet, dark soy sauce), and spicy sambal. The result? A sticky sweet-spicy-savory noodle dish bursting with Indonesian flavors.
Indomie is the biggest brand in noodle-loving Indonesia, which ranks as second in global demand for instant noodles. According to data from their health ministry, around 60% of Indonesians eat one to six packs of instant noodles per week and in 2020, approximately 12.64 billion servings of instant noodles were consumed in the country, with Indomie being on top of their cravings list.
Its role as favorite comfort food for many Indonesians has led to increased sales during the long months cooped up at home while the COVID-19 pandemic ravaged the world.
Supermarkets inside Aeon malls in Indonesia, an arm of Japanese retailer Aeon, have reported selling an average of 4,000 packs of Indomie noodles a day, influenced by the bulk-buying trend carried over from the start of the pandemic.
The company behind Indomie, Indofood CBP Sukses Makmur, reported revenue growth of 6.7 percent year-on-year to 81.73 trillion Rp.
The death of Nanuk Nuraini, the brains behind Indomie's most popular flavor - Mi Goreng - earlier this year has also contributed to a surge in sales. As the news of her death broke out - covered even by international news outlets - Indonesians and other fans of her brainchild took to social media to lament the loss of the culinary world and honor her legacy with a serving of Indomie Mi Goreng.
Outside Indonesia
Outside of Indonesia, Indomie's biggest success story would arguably be Nigeria.
When Indomie arrived in Nigeria back in 1988, the instant noodle market was non-existent. Unlike countries in Asia or even the West, a lot of Nigerians just weren't used to eating noodles in general. As such, it took some effort for Indomie to earn its place on Nigerian plates.
Mohan Vaswani, chairman of the Singapore-based Tolaram Group, is credited with turning Indomie into a household name in Nigeria. The company partnered with Indofood owners to introduce instant noodles to Africa. They heavily marketed Indomie to the Nigerian market by arguing that it was just as important as other staple carbs like rice and bread but was somehow also healthier.
On top of that, Nigeria was experiencing a population boom. The country had quadrupled its population in 50 years. This meant that there were more and more mouths to feed - something that Indomie was able to capitalize on. With a series of ads that painted the product as a quick and easy option for overworked mothers, Indomie was able to conquer the Nigerian market.
The commercials were so successful that most Nigerians had no idea that the brand even had anything to do with Indonesia and was instead thought to be a local product.
Nigeria has since become the 12th largest instant noodle market in the world. Although there are now multiple brands vying for consumers' attention, Indomie still dominates with 74% of the market share. For many Nigerians, noodles are still synonymous with Indomie.
A Cult Following
Outside of sales and figures, Indomie has also left its footprint in pop culture.
In Nigeria, they have a popular animated TV series called The Indomitables. The show centers around the adventures of five superheroes with powers that match the "different nutrients kids get from Indomie noodles." The show has further branched out and has been made into a mobile game.
In 2019, fan-made Indomie-themed Air Jordans sold out in two days after it was announced that 20 pairs of Jordan 1 Indomie Customs would be available to the public. The shoes were priced at 3.3 million Rp (US$233.2), which included the original price of the shoes.
If you're thinking of singing this cult favorite praises, then you're not the only one. British rapper, Jesse Two Ocean (J2O), even released a song and accompanying music video which centered around and heavily featured Indomie back in 2011. The song, aptly titled "Indomie", currently has over one million views on Youtube.

Check out what other delectable treats Southeast Asia has to offer with our other Eye on Asia entries. We have stories on Malaysia's mamak stalls and Singapore's hawker culture. See you in the next one!