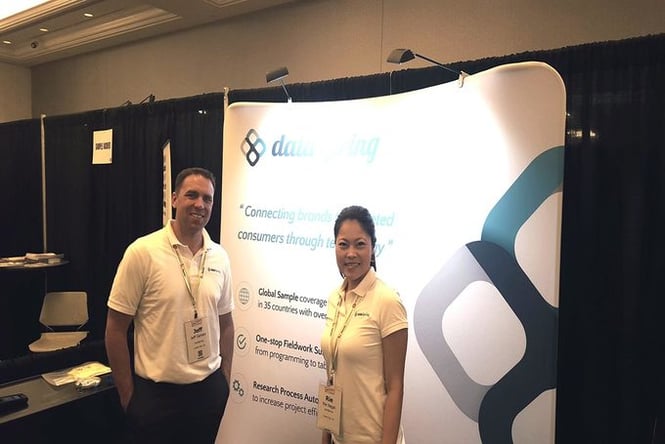 Jeff Gerken, dataSpring's Regional VP, North America, shares his thoughts about working on an Asian sample panel and trends in the market research industry.

Q: What's going on in the market research industry in the U.S.?
A: The market's strong, and we continue to see growth, both in studies in Asia and globally. The recent economic numbers have seemed to give companies the confidence to invest in growth, and that usually means starting with market research.

But I also see that some firms are putting less emphasis on quality and more on low price. Our clients still put a premium on quality, and that is where we shine and come through for them.

Q: What methodologies or approaches are you seeing more of these days?
A: It seems to be all about mobile these days. This is especially important in Asia, where experienced researchers know that mobile is crucial to representativeness and data quality, as many consumers do not have access to a PC.

In addition, our clients love the new toolset that mobile methodologies bring. Understanding the consumer journey - especially at that decisive 'moment of purchase' - is key to effective marketing today. Capturing insights in the moment, not only with traditional questions but also with audio, photos, and video is a game changer for the industry.


Q: You and your team are constantly working with clients. What's the 'buzz' in the industry?
A: Sample fraud in China is on the minds of researchers who work in Asia. Because of increased demand, there's been a huge increase in pop-up panel houses churning out cheap sample, with little or no quality control. There's also been a proliferation of sites telling people how and where to take surveys, so managing our own online research panel quality has been challenging.

Q: How is dataSpring combatting this?
A: First and foremost, as a company, we are committed to providing a quality sample for our clients. That's where it all has to start. So we have a team dedicated to panel hygiene and rooting out suspect panelists. It takes effort, but that is what clients expect, and it is what we stand for in the market.

Q: Anything else of note?
A: On the positive side, clients are excited about the upcoming 2020 Tokyo Olympics. We are doing a lot of research helping clients take advantage and leverage this global event in their product development, packaging, marketing, and advertising.

Q: How is dataSpring positioned in the U.S. market?
A: Asian expertise, which still a unique skill here in the U.S. No other companies have our depth of knowledge and experience in the Asian market. This goes beyond simply providing a quality sample. Translation, sample planning, programming, and hosting - we bring it all.
Q: What's the direction for the future?
A: More mobile panels and launching our mobile survey app in more countries. While consumers are not going to abandon their PCs completely, smartphones have become an essential everyday tool for people. In some ways, I feel the research industry has actually been a little behind in adopting mobile for certain types of studies.
Q: Why do you think this has happened?
A: It is forcing us to rethink methodology and questionnaire design. The expectation that someone will sit down and provide 20 or 30 minutes of their time - uninterrupted - is no longer realistic. So the challenge is figuring out how to extract the data needed for say, a tracking or positioning study, within the time commitment that a panelist is willing to provide.

It's a challenge, but one that as an industry we can definitely overcome.
---

Jeff Gerken has over 10 years of sales and MR experience; most recently serving as a Director at Federated Sample. Prior to that, he worked with Symphony, SSI, and insight express. At dataSpring, Jeff brings a keen desire to build lasting client relationships. He studied in Japan and speaks conversational Japanese.


About dataSpring
dataSpring has offices in London, Tokyo, Shanghai, Seoul, Singapore, Los Angeles, and New York, supported by a recently expanded main operations hub in Manila. The firm maintains over 2,000,000 panelists in Japan, China, South Korea, Taiwan, Hong Kong, Indonesia, Vietnam, Thailand, Malaysia, Philippines, and Singapore.

Headquartered in Japan, dataSpring is a tech-based market research firm connecting international brands with targeted consumers through technology. The company offers market researchers and end clients a powerful package of research solutions such as Global Sample in over 35 countries, a one-stop Fieldwork Suite from questionnaire design to tabulation, and a proprietary survey programming and reporting tool.