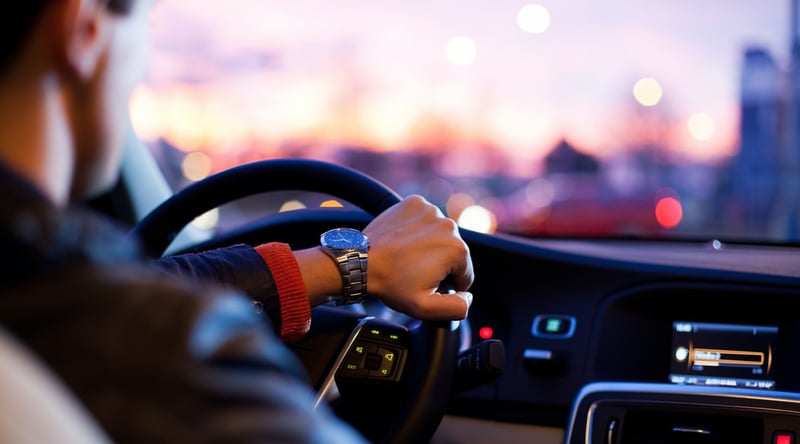 We now live in the age of the Internet of Things, where everyday objects like refrigerators and garage doors are connected online to display information and get controlled remotely. The car industry is not spared by this development as manufacturers start to integrate Voice Assistant devices into vehicles to help drivers navigate through traffic, make calls, check car diagnostics, and more. This is all the more true in South Korea, which is already one of the global hubs for cutting-edge technology.
dataSpring recently launched a survey in South Korea to know how car owners and buyers view and value Car Voice Assistants. You can see the results of the survey below: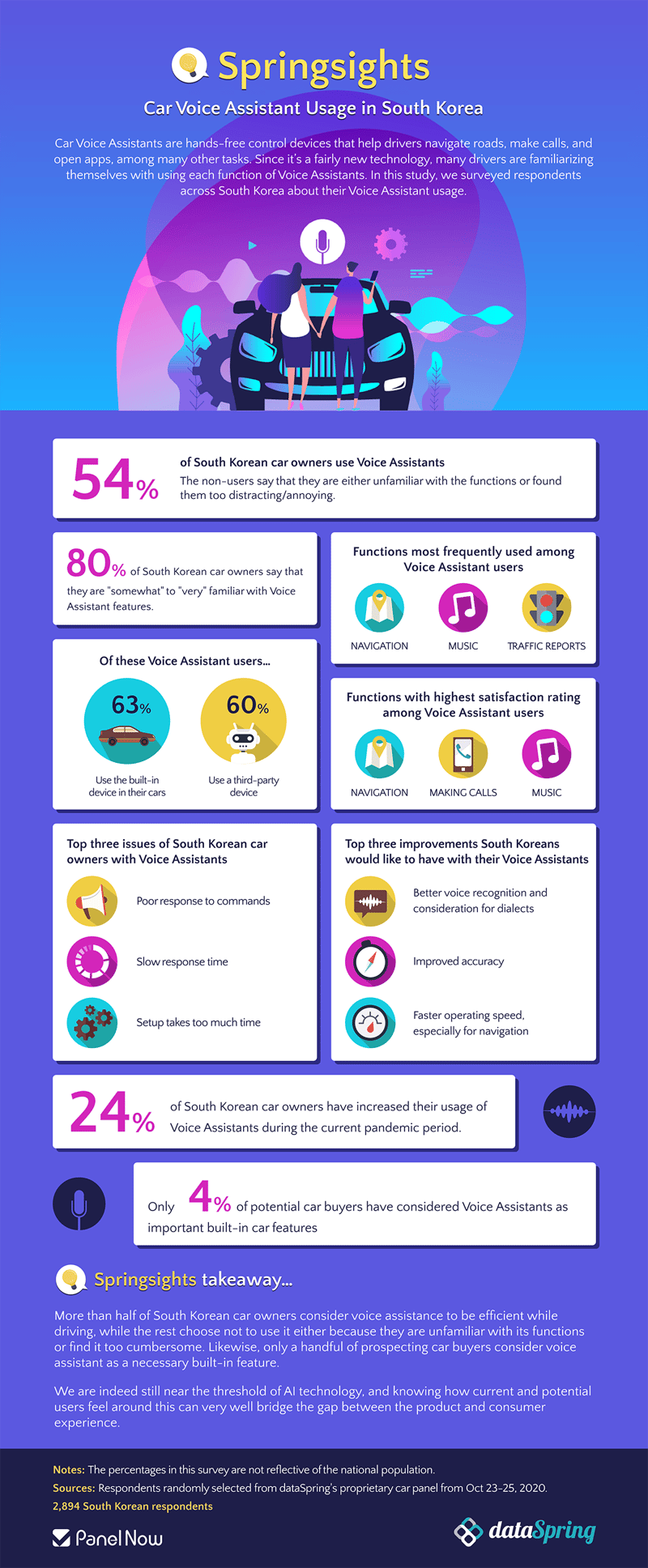 Car Voice Assistant technology has been around since 2001, but it only took off in the industry more recently. The arrival of the Tesla cars may have likely intensified the interest for smartphone-like features in cars. When the Tesla Model S was introduced in 2012, car buyers were amazed by its giant touchscreen and connectivity. Audi previewed the Personal Intelligent Assistant (PIA) in 2016, and since then other manufacturers started to envision a voice-assisted driving experience. BMW added the Intelligent Personal Assistant as a feature of its seventh generation infotainment system, utilizing the AI-powered Nuance Dragon Drive technology to assist in adjusting cabin temperature, checking components, and many more. Other brands like Audi, Chrysler, Daimler, Ford, and Hyundai also started using the Nuance Dragon Drive platform.
The demand for Voice Assistants in cars is increasing. According to an Alexa Auto study with JD Power, around 76% of people who interact with a voice assistant at home, such as the Amazon Echo, say that they want the same assistant in their cars. Millions of Alexa-enabled devices have been purchased, so the demand will likely be the same for devices in cars. Voice recognition apps are poised to take over the automotive market, with the introduction of downloadable mobile apps like CarPlay, Android Auto, and Echo Auto.
Built-in vs. Mobile Apps
Built-in voice assistants usually appear in the higher-end models of vehicles, but some mid-class models from different brands now have this feature. One major advantage that built-in voice assistants have over third-party devices is the ability to provide hardware diagnostics and adjust car components, like air temperature.
On the other hand, voice assistants from third-party devices such as smartphones are more intuitive since their data pool for AI comes from different markets, from smartphones to home appliances. For example, Alexa will be able to differentiate accents and dialects much better since it already has access to millions of users worldwide, including non-car owners. The downside of these devices is that they do not have direct access to the parts of the cars, so the services of third-party devices are limited to information and entertainment, such as navigation and playing music.
Third-party voice assistants are also starting to become regular features for drivers globally. One company that has taken a major stride in Voice Assistant technology is Amazon, through its in-vehicle Smart Audio Platform system. One interesting anecdote about Alexa's arrival as the natural driver/car interface happened at the Consumer Electronics Show in January 2019, when a Qualcomm Executive executive was demoing the platform when Alexa interrupted him mid-sentence, saying "No! That's not true." The platform has since rolled out across the globe as the Amazon Echo Auto, which has received favorable reviews among users due to its portability, setup ease, and intuitiveness.
Driving innovation in Korea
In South Korea, where the smart speaker growth rate is just second to China in 2019, innovation drives the growth and usage of voice assistants for vehicles. In 2016, SK Telecom, the country's largest wireless operator, introduced NUGU, the first voice assistant for the Korean language, and in 2017 the company released an in-car version, the T Map X NUGU, which provided traffic data and in-car entertainment, among many others. In 2018, Google launched the Korean version of Android Auto, which can connect to smartphones to enable navigation, information, and communication features. However, Google wasn't able to provide its map due to the sensitive political nature of map data in South Korea, which requires restrictions on viewing military installations and nuclear facilities.
Partnerships with car manufacturers were also established. In 2019, Korean Internet company Naver introduced the Clova Auto app, an AI platform that can be linked to Toyota's Smart Device Link (SDL). In the same year, Kakao established a partnership with Hyundai to provide a voice assistant platform and was first seen in the Hyundai Sonata sedan. Aside from providing information such as weather, stock prices, and sports scores, the in-car voice assistant can also help adjust air conditioning temperature and airflow direction.
South Korean researchers are also finding more ways to improve voice assistant technology. At the Korea Advanced Institute of Science and Technology, researchers developed an AI with an increased safety feature that determines when communication with the driver is safe. It uses sensor data and environment information to minimize driver distraction and avoid initiating conversations at the wrong time.
These South Korean companies continue to develop more sophisticated voice assistant platforms, sign agreements with vehicle manufacturers, and establish partnerships with global technology companies. In 2020, Samsung, SK Telecom, and Kakao allied to establish a so-called AI alliance in response to global alliances established by Amazon, Google, and Apple. Their first collaborative effort led to the improvement of the voice-controlled market.
Check out our other Eye on Asia entries here on the dataSpring website! We've got stories on The Social Media Capital of the World's transition to a life online and Southeast Asia's growing appetite for food delivery. See you in the next one!