Smartphones have become an integral part of our daily lives that evolved over the years into more than just a phone used for calling or texting. Its purpose has expanded that even our sensitive and personal data such as bank account information, photos, and videos are also stored which demands higher security.

Today, with many smart companies competing in the market each has also offered different ways to secure our smartphones and they have provided different complex ways to set up a password. With many options to choose from we asked our Southeast Asian panel what they think is the best way to unlock their smartphone.
The Results Are In!
In this survey, the presented infographic is the top 5 choices that are chosen the most by each country.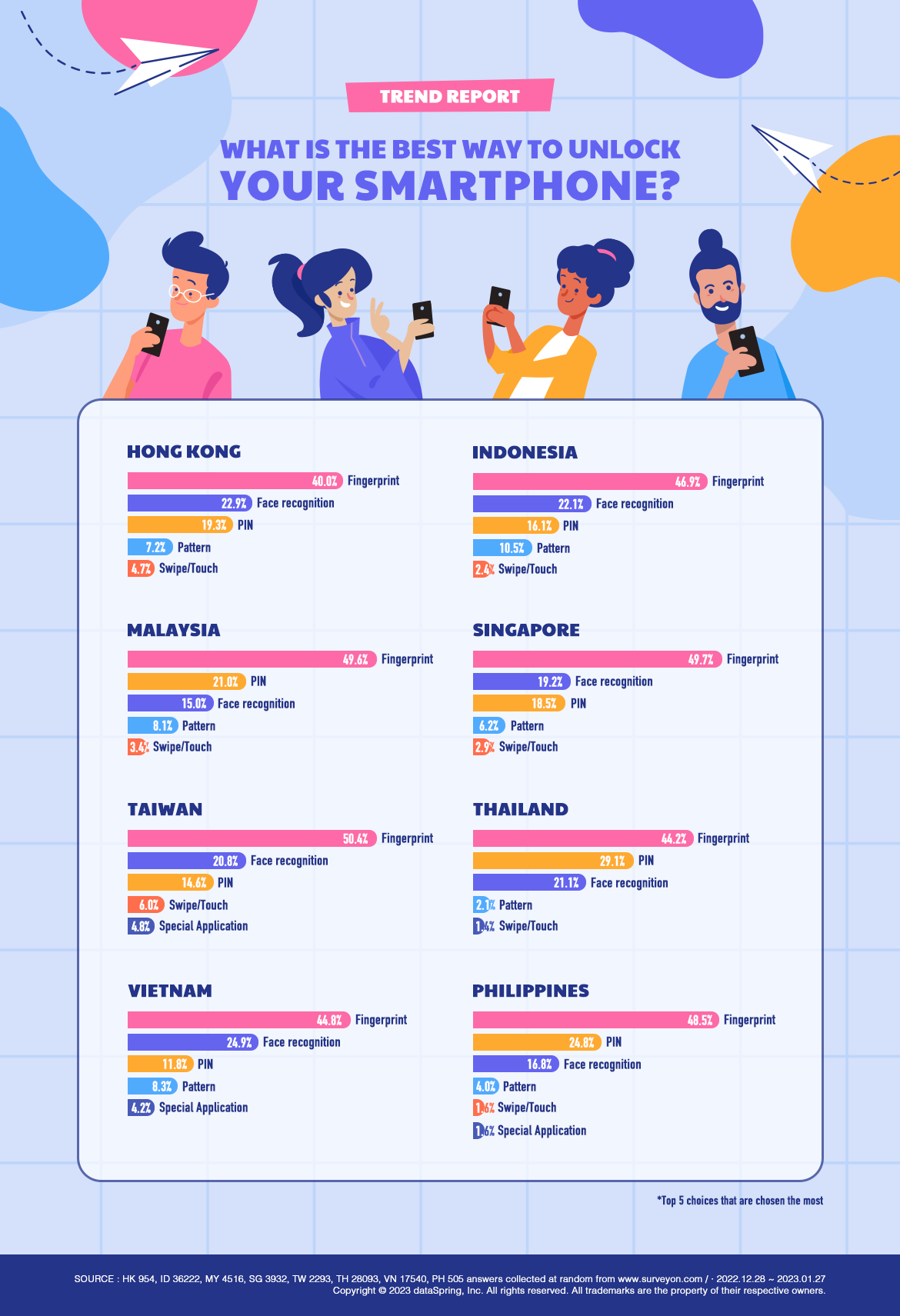 Of the eight countries that participated in the survey, "fingerprint" ranked the highest and first. Hong Kong (40.0%), Indonesia (46.9%), Malaysia (49.6%), Singapore (49.7%), Taiwan (50.4%), Thailand (44.2%), Vietnam (44.8%), and the Philippines (48.5%).
Next to "fingerprint" ranking second to 5 countries, panelists have chosen "face recognition". These countries are Hong Kong (22.9%), Indonesia (22.1%), Singapore (19.2%), Taiwan (20.8%), and Vietnam (24.9%).
While for 3 countries "PIN" was chosen as the second best way to unlock a smartphone are Malaysia (21.0%), Thailand (29.1%), and the Philippines (24.8%).
It looks like Southeast Asians trust biometric measurements more such as "fingerprint" and "face recognition" as a way to unlock their phones. It's also not a shock that all countries prefer "fingerprint" as it was already proven that it is far more accurate as a biometric system.
Do you want to share your opinions and earn some points on the side? Sign up now and become part of our surveyon panel! We'd love to hear what you have to say!