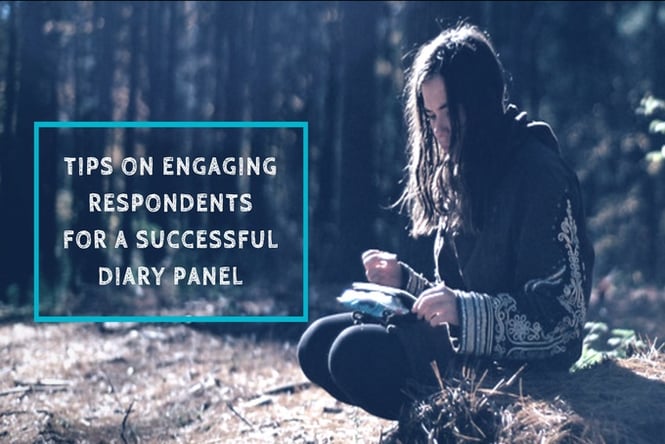 Engagement at every step of the process helps ensure success and maximizes the impact of your study.
Executive Summary
- Work with stakeholders to focus on study goals and provide input into the design.

- Create a design that maximizes data capture and incorporates participant media.

- Set clear participation expectations when recruiting and creatively incentive respondents so that motivation remains high throughout the study.

- Develop a report that brings the consumers story to life in vivid terms.
Diary panel studies can be one of the most insightful methodologies available for understanding consumer behavior and motivation. Due to the high reliance on respondent cooperation over an extended period of time, these types of studies can also be quite challenging to execute successfully. Technology tools have greatly lessened respondent burden compared to the pencil and paper diary days, as they provide an easier means to capture data, track, motivate, remind, and incentivize diarists.
These tools certainly increase the odds that a study will be successful and yield valuable insights, but it is important for every researcher to recognize that tools alone do not guarantee success. A high level of thinking and planning is still required.
4 Tips on Conducting a Diary Study
Engaging Stakeholders: Study Design Participation
The first step towards creating a successful diary panel study is engaging stakeholders early in the process. As recommended in our blog Tracking Studies: 3 Tips to Ensure Success, it is crucial to find out what is important to the people who will be using the data and how they plan to use it. Setting expectations and aligning goals will help ensure there are no missed opportunities.
Also, take the time to explain and demonstrate the capabilities of your diary panel software. With the multitude of question types, stimuli presentation, and media sharing capabilities, your research end-user will be more enthusiastic and committed to the effort if they are part of the design process.
Engaging Design: More Depth to Data
Despite the abundance of tools that are available, if the design of your diary study is not well planned, the study can be less successful. It is important to think of the study as an on-going conversation with consumers and not as a recalled daily data dump. This is where technology platform capabilities are critical. The ability to weave structured and free-form feedback together enables the collection of 'fresher' data during the actual consumer experience, not information recalled after the fact from memory.
To add even greater depth to your design, instruct participants to share whatever media suits the occasion: images, video, voice notes, and even doodles can be a powerful window into respondent's lives. If the study is looking for insights in out-of-home environments, consider utilizing a mobile methodology. Mobile allows the capturing of 'in the moment' insights and generally provides better insight on respondent attitudes and emotions. Also, be sure to plan time during field to regularly monitor participants' entries to probe and ask follow-up questions.
Learn about Mobile Research in our Mobile 101 eBook
Engaging Incentives: Stronger Respondent Participation
There are few things more disappointing to a researcher than putting effort into design and set-up, only to see participation become an issue. This is where expectation setting and creative incentive planning can be crucial. While it would seem reasonable to assume respondents who agree to participate will fully commit to the study, in reality, busy lives, not a research study, are their first priority.
One of the keys during the recruiting process is to make sure prospective participants have a clear understanding of expectations and deadlines. This is where working with a high-quality sample provider such as dataSpring is important. A well-managed and maintained online research panel will yield better respondents, ultimately delivering a more successful study. Better sample providers can also take a more creative approach to incentives. Research on research studies have shown providing the right incentive can significantly increase participation rates. Consider taking a more micro approach to incentives by linking them to individual actions, inputs and time spent with the diary study instead of overall participation. This approach provides immediate positive reinforcement and motivates participants more effectively.
Engaging Reporting: Greater Organizational Impact
The amount of data coming out of today's diary studies can be overwhelming. Back-end analysis and coding tools can help structure and order data, but if the report fails to bring to life the 'story' inherent in the data, the impact on stakeholders will be greatly diminished.
Start the report writing process by reviewing the structured, quant-based data to get an overall sense of behaviors, habits, attitudes, and purchase and usage motivation. Once a picture begins to emerge, layer in the photos, videos, verbatims, and other media to provide greater context and depth to the numbers. Once your draft report is complete, step back and think about the creative aspect of the report. All too often researchers mistakenly believe that the 'data' is the story or that including a photo or video is enough to bring life to the consumer.
Consider incorporating elements from the web development playbook by developing personas and user stories. These approaches consolidate insights into concise and memorable portraits that will provide your report with greater impact. Lastly and most importantly, be sure to review notes from your initial stakeholder meetings so your report addresses each constituent's needs.
To Conclude:
Ultimately diary studies are about engagement – purposefully engaging stakeholders in the process, engaging respondents with the design and incentives, and producing an engaging and captivating report. Remember, a diary study is ultimately a story that provides insights into a consumer's daily life. Bringing that story to life in vivid terms is what will help the organization best capitalize on those insights.