WINNING THIS HONOR SIGNIFIES RPA IS A COMPANY POISED FOR GROWTH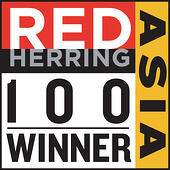 TOKYO, Japan (October 5, 2012) – Research Panel Asia, a leading provider of online research panels in the APAC region who celebrated its three-year anniversary on October 1st, announced recently winning placement on the 2012 Red Herring Asia 100 on September 12th.
Since 1996, technology industry executives, investors, and strategists have valued the Red Herring Top 100 lists for discovering and advocating the most promising private ventures from around the world. The Red Herring 100 Asia celebrates the exceptional accomplishment of Asian technology companies and entrepreneurs, recognizing those companies best positioned for explosive growth. For the 2012 awards, Red Herring editors selected a short list of the most innovative and promising companies from a pool of hundreds from across Asia.
To win, RPA's CEO, Toshiki Sano, presented at the Red Herring 100 Asia Event in Hong Kong, China held September 10 – 12, 2012. The event brought together 200 C-level technology entrepreneurs, corporate strategists, and venture financiers from across Asia to present their companies in the final stage of judging. CEO Sano presented a strong case for why RPA is positioned for tremendous financial performance and growth, including:
A client base that includes more than 70 of the world's largest market research and online research firms from around the globe;
An unparalleled ability to meet demands in emerging markets through a combination of RPA's local insight, 24/7 operations, high quality and low cost; and
A very aggressive growth strategy to expand throughout APAC – and beyond.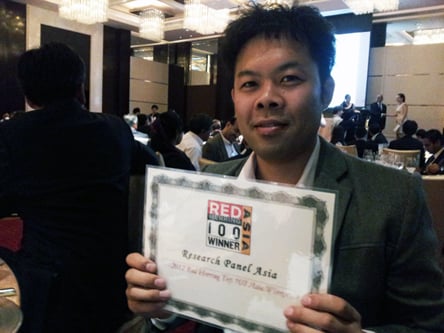 CEO Toshiki Sano Winning Red Herring Asia 100
"We are thrilled to be a 2012 Red Herring Asia 100 winner," said RPA CEO Toshiki Sano, "as this award solidifies our beliefs that we are poised for tremendous growth and success. We were honored to be a part of this process."
About Research Panel Asia (RPA)
Headquartered in Tokyo, with additional offices in Seoul, Shanghai, Los Angeles, and Manila, RPA is a full-service provider of high quality survey panels for the Asian region offering proprietary coverage in Japan, China, and Korea. The firm specializes in providing consumer and consumer lifestyle studies and provides innovative online, 24/7 access to expansive, premium, online Asian panels. For more information, please visit RPA.