London, United Kingdom: Addition of Senior Account Manager adds depth to new London office.
Tanja de Vries Robles has joined global panel and survey software firm dataSpring as Senior Account Manager. The market research veteran was most recently Head of Global Pricing at CINT UK and has over a decade of experience at a number of panel sample suppliers.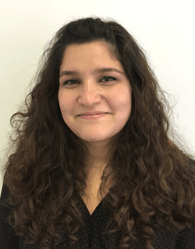 "I am really excited to have the opportunity to join the UK team to assist clients in the EMEA region," de Vries said. "dataSpring has built excellent customizable tools, from programming to data processing. I look forward to being part of the continued global success and growth."
"Tanja has gained a lot of experience working with EU clients and is able to speak 7 languages. She understands the client requirements and the service level that we need to bring to the region,'' said Arjen van Duijvenbode, EMEA Regional Director. "It complements dataSpring's existing strength in running studies in Asian markets. We can confidently offer clients a reliable single sample source for EU and Asian studies."
The hiring coincides with the firm moving into new offices in London's West End. Rie Nagai, SVP Global Business Development, commented, "dataSpring is committed to being a key-player in Europe, and London is the logical hub. We will continue to invest in staff and infrastructure to support our growing EMEA business."
dataSpring has additional offices in Tokyo, Shanghai, Seoul, Singapore, Los Angeles and New York, supported by a recently expanded main operations hub in Manila. The firm maintains over 2,000,000 panelists in Japan, China, South Korea, Taiwan, Hong Kong, Indonesia, Vietnam, Thailand, Malaysia, Philippines and Singapore.
About dataSpring
Headquartered in Japan, dataSpring is a tech-based market research firm connecting international brands with targeted consumers through technology. The company offers market researchers and end clients a powerful package of research solutions such as Global Sample in over 35 countries, a one-stop Fieldwork Suite from questionnaire design to tabulation, and a proprietary survey programming and reporting tool.
# # #

For more information, please visit: www.d8aspring.com
Media Contact: Ms. Marjorie Yoro, marjorie.yoro@d8aspring.com