Here is what you need to know this week:
- Think With Google: Marketer's Almanac: Wish you had information on how consumer behavior changes in relation to the seasons, holidays, and other special events? Think With Google's Marketer's Almanac offers interesting insights on how people browse and buy.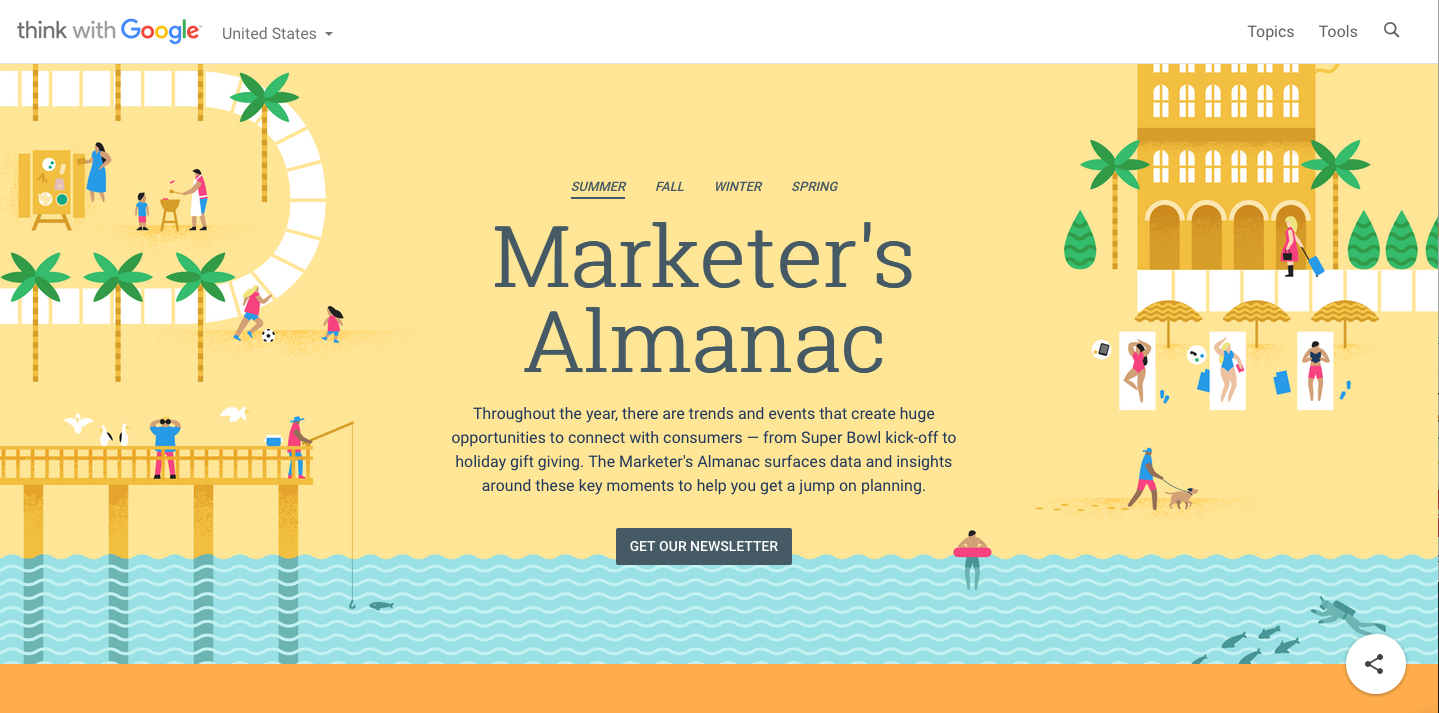 Some other handy tools:
Data
- Mixpanel: Analyze user behavior across your sites and apps, then send messages and run experiments from what you learned.
- Think With Google: Get information on how consumer behavior changes in relation to the seasons, holidays, and other special events.
- Consumer Barometer: This Google tool aims to help you understand consumers' internet usage habits across the world.
- BizStats: BizStats is the home of free, accurate business statistics – well organized and easy to access.
- Epidemic Tracker: Metabiota delivers actionable, data-driven insights that help organizations manage infectious disease risk.
- Trendwatching: Get reports on regional consumers, as well as uniquely tailored publications to tackle nearly any contemporary topic.
Data Analysis
- Tableau: Tableau is a data visualization tool that helps you see and understand market research data with analytics, visualization and business intelligence.
- Stats iQ: Stats iQ automatically runs the right statistical tests and visualizations, then translates your results into simple language that anyone can put into action.
- Power BI: See your company's data in new ways with interactive data visualization business intelligence tools from Microsoft Power BI.
- WebDataRocks: WebDataRocks is a web pivot table that allows you to visualize data in a smart way: aggregate it and show insights in real time.
- Market Research Statistical Calculator: Quirk's free statistics calculator lets you perform a wide variety of statistical significance tests including standard deviation, mean, sum, and sample size estimation.
- R: R is a free software environment for statistical computing and graphics.
- iNZight: A free, easy to use software for statistical data analysis.
Sampling
- Sample Size Calculator: The sample-size calculator from Qualtrics helps you determine your ideal sample size in seconds.
- Research Randomizer: Research Randomizer is a free resource for researchers and students in need of a quick way to generate random numbers or assign participants to experimental conditions.
Survey design
- Typeform: Express yourself with a fully customizable and powerful survey tool. Use Typeform to collect the information you need—then take action on the results.
- HubSpot Forms: Fill your CRM with leads from your website using powerful online forms — no technical expertise required!