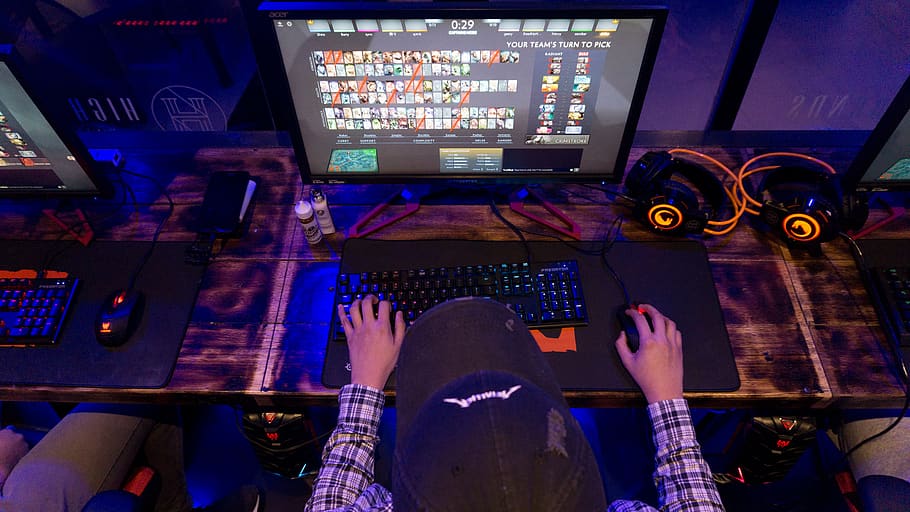 The gaming industry in the Asia Pacific region remains to be the biggest in the world in terms of revenue and market size. In 2019, the revenue generated from the gaming market in the Asia Pacific amounted to USD 72.2 billion, which is more than double the North American gaming market revenue. In this region, three Asian countries continue to dominate the gaming market – China, Japan, and South Korea.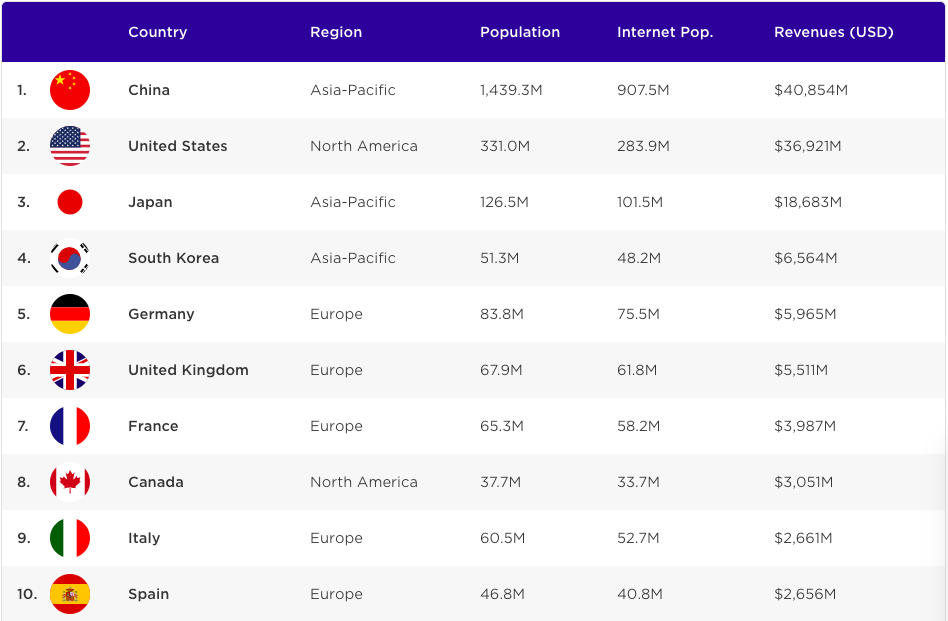 Top 10 Countries/Markets by Game Revenues (source)
As part of our initiative to provide essential insights on Asia, we're introducing this email series called Springsights, where we tackle different topics to help you get a clear picture of this vast region. For our first release, we recently surveyed in China and South Korea to know more about their gaming communities, like their average annual budget on video games, favorite game genres, most used streaming platforms, and more.

China
According to our survey results, around 64% of the Chinese consider themselves gamers. This can be attributed to the fact that the country is facing a rapidly developing economy, which demands a lot from its workforce and induces stress, competition, and high pressure in school and the workplace. Video gaming in China is viewed as a way to escape from the struggles of daily life, especially among the younger generation.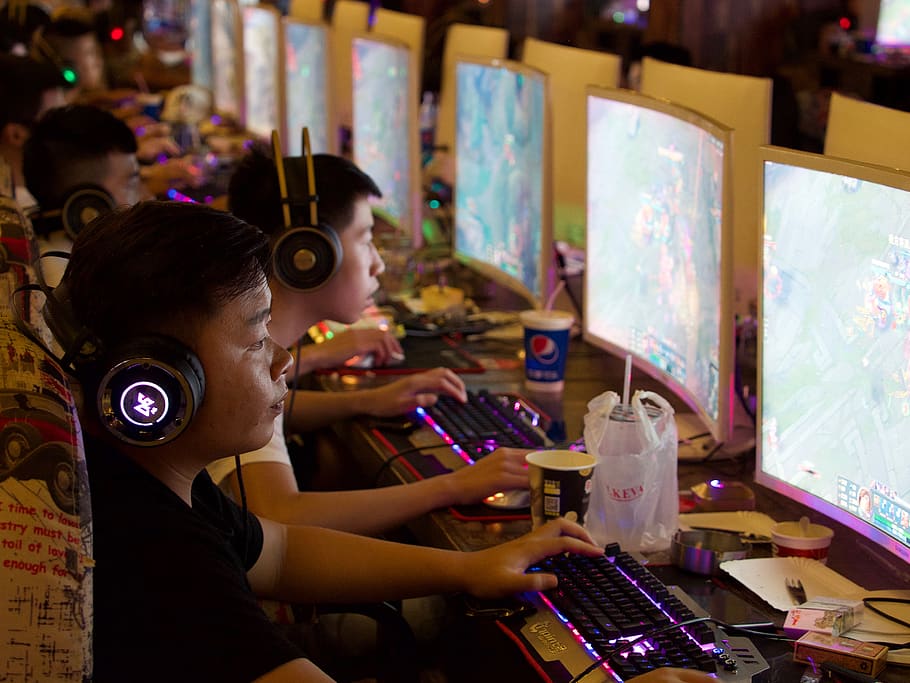 It took time for the Chinese gaming market to become the biggest video game market in the world. Video game consoles were accessible in China in the '90s, and as the market became more globalized, sales of consoles significantly grew. In 2000, China's Ministry of Culture placed a ban on sales of foreign-made gaming consoles, but this did not deter people from playing – and creating – games for personal computers. This led to popularity in internet cafes, which in turn provided a social community of gamers across China. In 2015, the ban was fully lifted, and it didn't take long for the Chinese gaming community to establish a USD 22.2 billion market in that year, which was a 23% increase from the previous year. In 2018, there are nearly 620 million video game players in China, double the size of the entire US population, who have spent over USD 37 billion on mobile and PC games. In 2019, the Chinese video game industry's revenue grew to CNY 230.9 billion, or USD 32.6 billion.
The mobile gaming market in China has also become one of the biggest in the world, generating USD 15.98 billion from 598 million mobile players. Analyst firm Niko Partners predicted that the Chinese mobile gaming industry will reach an annual revenue of USD 25.49 billion from 728 million gamers in 2023.
Korea
In a previous article, we discussed the gaming industry of South Korea, which was worth USD 6.2 billion in 2019, making it the fourth largest in the world.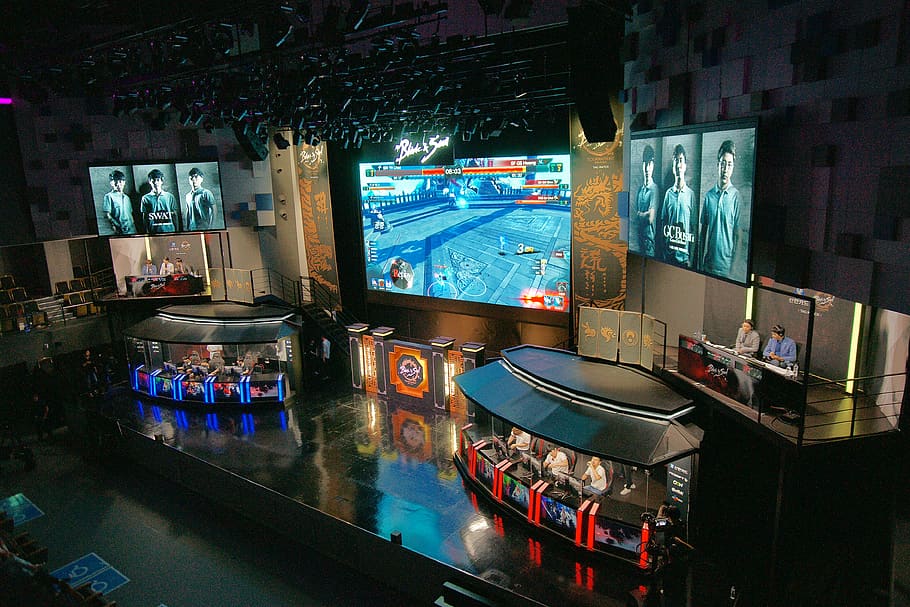 Like China, South Korea had an interesting story in its rapid ascent as a gaming haven. The year 2000 was a landmark year in the gaming industry when OnGameNet, the first TV channel dedicated to broadcasting game-related news, went live. The channel, now known as OGN, featured Korea's top gamers battling each other to popular video games like Starcraft, DoTa, and League of Legends. In the same year, South Korea's Ministry of Culture and Tourism alongside Samsung and Microsoft sponsored the World Cyber Games, which inspired a lot of future gaming athletes. The government soon created the Korean Esports Association (KeSPA) to oversee the e-sports community in the country, and have developed the world's first e-sports stadium in Yongsan back in 2005. In 2000, South Korea's gaming industry's market size was at KRW 3 trillion, or roughly USD 2.49 billion. More than a decade later, in 2017, it has grown almost five times.
Like in China, mobile gaming has become a major part of South Korean culture. The country is currently the fourth largest mobile game market in the world, and South Koreans have spent a total of USD 5.6 billion on mobile titles in 2018. With an expected mobile penetration rate of 81.92 percent in 2022, the highest in Asia, as well as having one of the best mobile internet infrastructures in the world, more and more South Koreans are getting hooked to playing mobile games, often to relieve stress from work.
Nowadays, the gaming industry is livelier and more exciting than ever. Many South Korean students and workers head to local gaming centers, called PC Bangs, to duke it out against one another over PC games like DotA and arcade games like Tekken for hours after school and work. South Korea is known as the original home of e-sports, which is now a multi-billion dollar industry worldwide, and has some of the highest-earning Pro Gamers in Korea, such as Lee "Faker" Sang Hyeok.
To learn more about consumer trends around Asia, check out our other Eye on Asia entries like solo dining in Korea or Christmas in Japan. See you at the next one installment of Springsights!